The quality and value of Lidl's premium own-label range Deluxe ensured it bagged the Toy Store Own Brand Range of the Year award.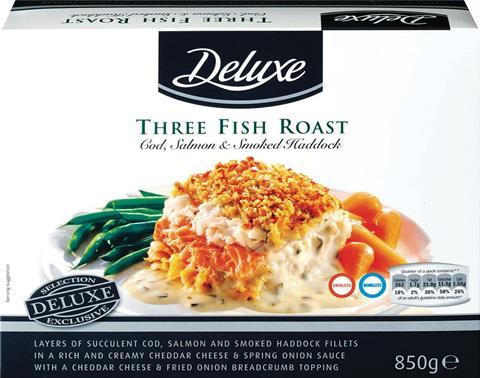 If Christmas produced winners and losers in the grocery sector, Lidl was among those that emerged victorious. While Morrisons and Tesco suffered
disappointing sales, the German supermarket chain revealed it had enjoyed its best performance to date over the festive period. Kantar Worldpanel data for the 12 weeks to February 2 shows Lidl's sales rose 17.2% compared with the same period last year, outperforming the wider grocery market.
Part of this impressive growth reflects the continuing success of Lidl's premium own-label range, Deluxe.
Lidl luxury
The range, first tested in stores six years ago, was originally introduced as a speciality at Christmas, but Lidl increased the size of the range rapidly after the products proved popular.
It is designed to offer shoppers luxury foods at low prices and includes products such as a Serrano ham (£39.99), caviar (which it first sold for £1.49), a hand-finished chocolate cake (£2.19) and Comte de Brismand champagne (£11.99), which was the top-selling product the week before Christmas 2013.
In October, Lidl launched its first nationwide TV campaign, promoting the Deluxe range. The advert, which focused on the quality of the food rather than price, was seen as a bid to attract squeezed middle-class shoppers.
The strategy appears to have been effective. Research by Kantar Worldpanel revealed that more than half of Britain's households shopped in Lidl or Aldi in the 12 weeks to December 8. In an interview last year Lidl UK boss Ronny Gottschlich described its new customers as "Maidstone mums" who are no longer afraid to be seen in a Lidl store.
The Deluxe range was launched with the introduction of a whole-cooked lobster for just under £5 (which continues to be one of the range's most successful products).
Popularity contest
Following this early success, Lidl decided to develop the premium range of own-label products and developed beef wellington, caviar and scallops in Chablis, all of which proved popular.
The range proved to be a hit - sales of the Deluxe range increased 200% between 2011 and 2012 - and the retailer rapidly expanded it in 2012. Lidl doubled the number of lines in the range that year in preparation for Christmas, following the enthusiastic reaction from shoppers.
One of these products was Lidl's Wine Cellar, which showcased its first ever selection of premium wines. It led to a sales increase of 20% on its wine range between September and December 2012.
It now has hundreds of lines with an increased focus on fresh products, such as premium cuts of meat. Products included reindeer steaks, ostrich steaks, scallops in Chablis sauce and beef chateaubriand.
Although it began as a seasonal brand, many products are now available all year round.
So, why has it been so successful? Lidl's strong pan-European presence - it has more than 9,000 stores in 24 countries - means its buying power ensures it can offer delicacies and luxury food at low prices, offering customers exclusive and hard-to-come-by products at the convenience of their local supermarket.
'They're absolutely a discount retailer but it's a fabulous product'
One judge commented: "They're making a hard-to-buy product available and affordable locally." Another said: "They're absolutely a discount retailer but it's a fabulous product."
Lidl says it increased the lines in response to a shift in shopping habits, as people chose to buy delicacy food products and fine wines to enjoy at home rather than eating out.
Over the years the retailer has scooped a number of awards and the range now has 38 trophies to its name - the matured Christmas pudding was awarded a Which? Best Buy in 2010 and the Deluxe three fish roast (£5.49) beat all other fish products at the Quality Food Awards in 2010 and 2011.
In an annual taste test competition run by the consumer group Which? last year, Lidl's £1.79 Snowy Lodge luxury mince pies came a joint second with M&S mince pies.
And having won this year's Toy Store Own Brand Range of the Year, it has another accolade.
The Toy Store
The Toy Store is the largest toy specialist retailer in the Middle East and has been trading for over 10 years. The Toy Store currently trades from 11 premium locations across the GCC region, with three more stores to open in 2014.
The Toy Store is now actively looking to expand globally. The Toy Store's innovative customer experience delivers a fun-filled atmosphere for everyone, making it The Toy Store of choice.
Be excited by our in-store entertainment, live demonstrations, widest range of toys and expert advice. Our underlying principle is play before you pay - Wanna Play?