Newton Europe Store Manager of the Year Simon Felstead, from Iceland's Fulham branch, stood out from the competition with his keen eye for visuals, international presence and championing staff 
Among the high calibre of nominations for this year's winner of The Newton Europe Store Manager award, the judges were unanimous.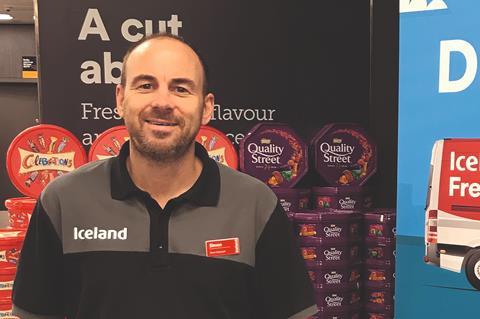 One judge said: "Simon Felstead stood out with his passion for Iceland and impressive achievements. He is a born trader, entrenched in the brand's values and has retail in his heart. We were blown away."
Felstead made his mark at Fulham, one of Iceland's largest stores that had been underperforming before his arrival as manager in January 2017.
He immediately engaged with the team and embarked on a successful drive to raise store standards and improve morale before the shop closed for several weeks for a refit.
Sales on reopening day set a company record and impressive like-for-like growth was achieved over the following year. The store continues to make like-for-like progress against demanding comparatives while maintaining high standards reflected in outstanding mystery shopping scores.
King of the visuals
Felstead is known for setting a high benchmark in such a busy location. Nicknamed 'Bulk Stack Billy', he is known for eye-catching displays he creates in store.
Store colleagues love working with Felstead and that is reflected in excellent results in the grocer's 'Straight Talk' staff survey, in which he indexes highly.
He is a champion of staff, encouraging others to progress their retail careers and has helped many new starters to move up to supervisor and store manager roles.
He oversaw the development of six current Iceland store managers and seven others who have since left the company, along with a host of staff at various levels.
Felstead's strengths began early in his career when he was manager of the Greenford store where he introduced managing director Richard Walker to Iceland as a frontline shelf stacker and cashier, helping him to reach store manager.
His store has been the location for films about Iceland by national and international broadcasters, focusing particularly on initiatives to remove plastic packaging and palm oil from own-label food.
His branch was chosen as the first to install of a reverse vending machine for plastic bottles to test customer reaction ahead of the Government's introduction of a national deposit return scheme in the fight against plastic.
Taking a global stance
His expertise is such that he is regularly seconded to other roles, including to branches abroad, and he has overseen the opening of two Iceland stores in the Czech Republic and one in Ireland, and advised the Iceland franchise in Iceland (the country).
Felstead's commitment to the business is matched by his dedication to raising money for good causes through the Iceland Foods Charitable Foundation, for which Felstead has undertaken numerous charity challenges. The judges agree that Felstead is an outstanding manager with an exceptional track record.
Mark of excellence: Steve Smith, the Co-op, Cambridge
Steve Smith was awarded a mark of excellence for his can-do attitude, both in and out of the Co-op store. He has empowered his team to excel, allowing them to focus more time on any "standout work in their communities".
When Smith joined the Co-op store in Cambridge, like Iceland it was also underperforming – like for likes were down and employees were disengaged. Now, the store and its team are thriving.
Smith has exceptional people skills, seen by his store achieving a fantastic employee feedback score. Staff retention rates are among the best in the store's division. He has now been selected as part of a high-performing management group, responsible for supporting other store managers and leading change.

Newton Europe
Newton is a specialist in operational improvement, fuelled by a fundamental belief that even the best organisations can be better. Our approach is different – deliberately.
We work hand in hand with our clients, delivering at the frontline. Together, we crack some of the largest and most complex challenges in the retail sector, by pinpointing and implementing the changes that will create the greatest impact.
We believe so strongly in what we can achieve together, that we guarantee our fees against delivering results.