After the success of its Shoreditch site, PwC Retail Destination winner Boxpark has expanded outside of East London to Croydon and Wembley as the brand continues to innovate each location and their surroundings
As the reinvigoration and reinvention of high streets remains front of mind for many retailers, Boxpark has proved to be an innovative player by creating new types of destinations for retail.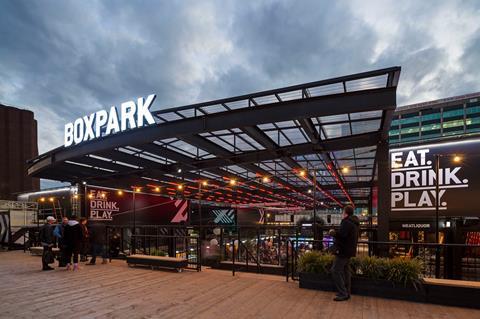 The grail many seek is to create a magnetic destination, with the perfect mix of shopping, eating out, relaxation and entertainment that will cast a location in a new light and excite consumers.
It is an elusive goal, but a model held up as the working benchmark example is Boxpark. What was originally a single location in London's Shoreditch – a blend of hip indie retailers, street food sellers, bars and performance spaces – has become a brand and a concept in retail.
As one of the judges of this category said, Boxpark has "captured the zeitgeist in terms of what people are looking for with food and drink and shopping together".
Expanding the brand
Boxpark Croydon is the latest complete incarnation of the brand and is more expansive than the original, and focuses entirely on food and drink. But the idea is the same: to provide a hub for eye-catching independent businesses to showcase themselves, and to show what can be done when the mix is right.
Located in the centre of Croydon, with space for more than 30 individual brands to trade, Boxpark Croydon was a move forward for a brand that had become synonymous with East London.
And it speaks volumes about Boxpark founder Roger Wade's ethos and ambition that an appealing destination full of interesting concepts and brands can lift an area and boost other businesses around it in the process.
The Croydon development helped reinforce Boxpark's reputation as a partner that is able to stimulate new vibrancy and creative ways of improving urban locations. The impact of Boxpark on the wider area is reflected in a rise in Grade-A rents, indicative of how the destination has enhanced the appeal of surrounding areas more generally, showing that consumers are willing to discover neighbourhoods once seen as less inviting they are improved.
The development helped reinforce Boxpark's reputation as a partner able to improve urban locations
One judge said: "Boxpark has built what looks like a strong brand – it is still changing and focusing on food service. This award recognises the retailer's courage and its shifting of the model that works in Shoreditch. Boxpark is trying to create a true destination. If you were looking for a wide range of interesting street foods and a casual night out, Boxpark has really done that."
Boxpark Croydon has had ups and downs along the way and is still a work in progress, but the judges recognised the efforts being put in to create something new. One said: "In some developments with this level of risk, the financial model may take time to develop. We are rewarding Boxpark's courage in doing this. It is really doing what lots of people in retail property talk about, which is making destinations with food and drink and leisure actually on site."
The Boxpark model is further evolving in Wembley, on the famous Olympic Way, where the model will be fine-tuned and developed this year as part of an extensive regeneration of the nearby area.
As retailers, local authorities and others look for ways to ensure town centres and similar locations thrive, Boxpark has led the way in bringing new thinking about what makes a space compelling for consumers.