PAID FOR POST
More voices from the retail industry
Retailers of all sizes are waking up to the importance of sustainability. It's good for the planet, brand reputation and the bottom line, too, according to LoweConex chief operating officer Ian Lowry.
Retailers that commit to net-zero pledges are becoming more attractive to consumers and investors.
Sustainable businesses also find it easier to attract and retain talent.
So, it's not surprising that more and more retailers are taking a stance on sustainability.
In a 2020 study by KPMG, the number of G250 (top 250 companies listed in the Fortune Global 500 ranking) retailers reporting on sustainability had reached 100%, with retailers in the N100 (100 largest companies in 41 countries surveyed) following in their footsteps at 67%.
But climate change comes at a cost, and many retailers are unsure where and how to prioritise spending on sustainability initiatives.
With millions currently being allocated to sustainability efforts across the sector, can returns pave more than the path to green investment and climate-positive progress or are retailers now faced with a new cost centre for the foreseeable future?
Where energy management comes in
While sustainable strategies encompass everything from recyclable packaging to eco-friendly logistics, combatting rising energy costs is the short-term goal for most retailers.
The average commercial electricity price (excluding the CCL levy on non-renewable energy) rose by 29% to 18.14p per kWh between Q1 2021 and Q1 2022.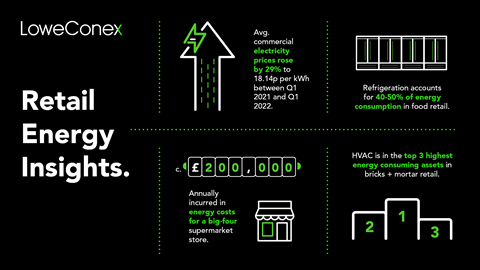 This means a single big-four supermarket store incurs around £200,000 in energy bills annually.
And while refrigeration accounts for 40-50% of energy consumption in food retail, heating, ventilation and air conditioning are consistently in the top three highest-energy-consuming retail assets across homeware, fashion and other stores too.
"While sustainable strategies encompass everything from recyclable packaging to eco-friendly logistics, combatting rising energy costs is the short-term goal for most retailers"
With energy costs showing no signs of slowing down and store emissions generated through asset electricity consumption cited as a key component of Net Zero Scope 2 criteria, retailers that invest in energy-management technology to effectively control their usage can take advantage of the direct correlation between reduced energy consumption and lower carbon emissions.
Delivering valuable sustainability achievements and savings that positively impact the environment and the ever-marginalised bottom line in an ongoing energy crisis.
DSR can support retail's green agenda
Technology also helps leverage additional energy-saving opportunities, including Demand Side Response (DSR), a balancing programme that enables the National Grid to successfully manage supply and demand to avoid blackouts and other issues.
In the short term participating in DSR lowers retailers' demand charges, a chief component of customer rates, and decreases exposure to market prices, especially during peak times.
It can help retailers use electricity more efficiently by optimising usage, generation and storage.
To date, DSR programmes have been proven to create a flexible system that can improve operational efficiency to cut baseline consumption by as much as 28%.
In the long term it reduces total energy generation and associated air emissions, allowing a sector responsible for more than 25% of global emissions to begin to curb their contribution.
The role of intelligent automation
Whether retailers focus on the ROI behind a net-zero strategy, minimising their carbon footprint to meet climate targets or both, intelligent automation is vital.
Today's breakthroughs in IoT software and hardware solutions help retailers optimise energy efficiency and participate in DSR programmes by automating reactive changes to connected assets in real time.
With technology reducing the need for human involvement, businesses can overcome a key barrier that KPMG cited as a factor preventing sustainability change for 36% of retailers and 60% of grocers – time to do what's needed.
Turn sustainable choices into short- and long-term savings
By harnessing the latest technologies, retailers can experience immediate cost savings by reducing energy consumption.
Less energy means lower carbon emissions, which makes carbon-neutral targets more achievable, ROI more attainable and investors, staff and customers happier.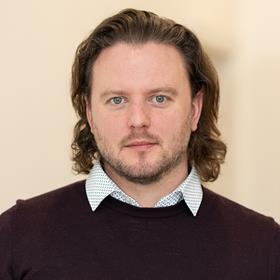 Ian Lowry is chief operating officer at LoweConex
With more than 10 years' strategic experience at the forefront of developing asset management systems and global operations for leading retail equipment rental company Lowe Corporation, Lowry has been a driving force for innovation. Now at the helm of award-winning IoT software innovator LoweConex, there isn't a more knowledgeable source on finding commercially viable climate tech solutions in an ever-changing environmental crisis.


LoweConex is a patented, award-winning, cloud-based IoT software platform and hardware solution that enables retailers to implement intelligent automation at scale. Creating significant energy and carbon emission reductions that deliver accelerated sustainability achievements and substantial cost savings. With a dedicated Bureau comprised of retail specialists, energy management experts and data scientists, we offer innovative technology implemented by innovative people. Want more insights? Download the latest retail industry report from LoweConex on the hidden costs and overlooked energy wastage actions catching retailers out when it comes to optimised in-store energy consumption.