PAID FOR POST
More voices from the retail industry
With disruptions across the supply chain continuing to challenge order fulfilment it is more important than ever that retailers gain some independence from external factors, says Comarch's Joanna Dobrzyńska
The Covid-19 pandemic, the Russian war in Ukraine, international embargos and more – these are just a few reasons for serious inefficiencies in the international supply chain.
Although there are many elements beyond your control contributing to supply chain disruptions, there are some things you can do to mitigate the effects.
1. Use real-time data in your systems
In an ideal situation, everything can always be planned precisely. However, the reality is much less predictable and, at some moment after placing an order, anything – from the quantity to the delivery address – may need changing.
This is where technology is a retailer's secret weapon, allowing businesses to perform a wealth of functions that humans simply can't. A standard EDI (Electronic Data Interchange) system can allow retailers to send a standard order and receive a confirmation of shipment, as well as send sophisticated messages enabling firms to inform partners about specific challenges or issues.
2. Speed up your processes thanks to AI and ML
Systems that use artificial intelligence (AI) and machine learning (ML) to analyse data can enable employees to carry out more business-strategic activities and fewer repetitive tasks.
Retailers can then enhance many processes in supply chain management by saving time, preventing human error and allowing a quick response in the event of a disruption.
AI can provide full automation of processes across distribution management as well as aid with data capture and anomaly detection.
3. Transform your data strategy
The correct exchange and constant updating of data between all parties in the supply chain are essential for success.
Although ever-changing costs and demand projections don't make it any easier, strategic integrations between customers and vendors can help.
Ideally, retailers can share both stock and location information so that suppliers can ship just the right products to the right stores and at the right time.
4. Predict what's to come with alerts and trends
Thanks to effectively used data, retailers can maximise visibility into such categories as demand, inventory, capacity, supply and finances across the supply chain.
Technology today can allow you to track data, general average shipping time, get real-time feedback about orders and see how often you can expect delays.
Gaining this type of information makes it easy to "control" suppliers you work with, and allows you to maintain a list of "back-up" business partners if products cannot be delivered by the main supplier.
As you can see, regardless of the solution you choose, it is essential to start collecting, effectively processing and analysing data that will let you not only draw conclusions from the past but also predict the future.
The goal should be the integration of data with business processes using technological tools. And if you would like to know even more about supply chain digitalisation, get a free copy of our latest ebook about 2022 business trends.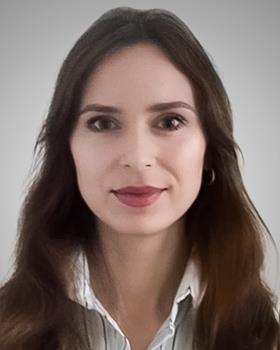 Joanna Dobrzyńska is business solutions manager at Comarch.
Joanna Dobrzyńska started her adventure at Comarch in the product department where she worked as an analyst. Afterwards, she became a product manager for the Master Data Management solution. Currently, as a business solution manager, she has expanded the area of her expertise to include other solutions included in the portfolio of Comarch's data exchange suite (such as EDI and e-invoicing). She works directly with international clients, mainly focusing on the retail and consumer goods sector, where she provides advice on how to introduce digital transformation step by step. She also offers guidance in terms of understanding the true potential of technology for intelligent process automation and improved decision-making.

For the past 25 years, Comarch has been a global provider of advanced, software-defined technologies that help companies from all industries optimise their key business processes. The company's vast portfolio includes systems and services for efficient data and document exchange such as master data management, electronic data interchange, online distribution, and e-invoicing platform. Each of the products is fully compliant with the latest local regulations and allows enterprises to improve their business performance, gain a competitive advantage and reduce operational costs. Comarch's clients include top professionals from various sectors: retail (e.g. Metro-Digital, Tesco, Carrefour) FMCG (e.g. BIC, Johnson & Johnson, L'Oréal, Unilever), pharma (e.g. GlaxoSmithKline, Sanofi) and many more.
View full Profile