PAID FOR POST
More voices from the retail industry
Data is the key way retailers can minimise supply chain disruption, says Florence Broderick, chief marketing officer at Carto
With the UK's supply chain crisis expected to last until at least 2023, retailers should be looking beyond traditional sources of data and leveraging new streams of location-based data and analysis methods to ensure they are able to keep up with consumer demand during this festive season and beyond.
Here are five ways location data can help to ease the supply chain crisis:
1. Demand modelling
Given consumer demand is expected to continue to rise and with concerns about more disruption in the run-up to the peak shopping season, it is clear that more accurate demand modeling will help with better visibility into the different areas of the supply chain and improve manoeuvrability when issues occur.
Retailers such as Gap use spatial models to simulate demand and can be enriched with data streams relating to events (such as port closures and labour shortages) or weather, providing insights to predict and test future demand scenarios.
2. Route optimisation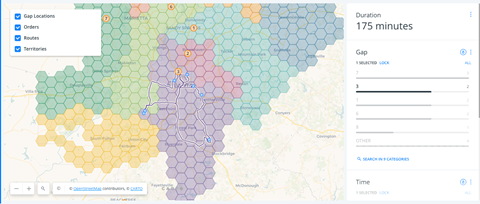 For a relatively small number of deliveries (eg: 60 to 70 parcels per day) there are billions of possible routes. The vehicle routing problem (VRP) is not just about finding shorter or fewer routes, it is a strategic way to reduce costs and the carbon footprint.
Routing engines, used by the likes of DPD, DHL, and Seur, leverage heuristics and custom-designed algorithms to find the shortest and most efficient path, allowing drivers to visit a number of locations only once.
3. Last-mile logistics
The gig economy has had a big impact on last-mile logistics and in the UK, is on course to surge 300% in three years. This has helped to plug gaps in the workforce with many postal and logistics providers moving from using dedicated scanning devices to smartphones as a result.
Unlike the traditional VRPs outlined above, users expect an immediate response and accurate ETAs as part of the customer experience with spatial data science allowing on-demand delivery services such as Postmates (part of Uber) and Gorillas to build data models that simulate existing conditions, providing them with insights on existing constraints, inefficient assignments and much more.
4. Pick-up and drop-off site selection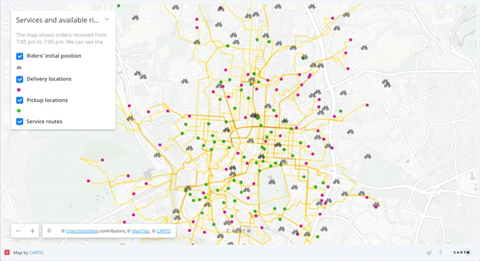 Another method to reduce delivery times is to encourage last-mile deliveries to parcel lockers or use click-and-collect solutions, where multiple deliveries can be completed at a single location. With Tesco expanding its partnership of InPost lockers, networks of stores or self-serve lockers to serve as pick-up and drop-off points can also reduce the number of failed deliveries.
With ecommerce accelerating during the pandemic, increasing the geospatial coverage of such networks is fundamental in order to retain market share and profitability – especially with higher-value items. Using spatial modeling enables supply-chain firms to predict demand using new data streams (such as human mobility or ecommerce propensity) as well as to understand catchment areas.
5. Fleet management
With the automobile industry facing a major microchip shortage and larger than expected demand for new vehicles, fleet owners must re-examine their vehicle life-cycle shortage as they are left with unfulfilled orders.
Therefore, as Ikea has been increasingly demonstrating, the ability to visualise existing fleets and optimise their activity over longer lifespans is of increasing importance with data streams such as traffic, weather and routing data, allowing improved efficiencies and a reduction in costs.
Spatial platforms capable of handling large amounts of data, such as Carto, allow leaders to stay informed and refine supply-chain strategies when needed. The ability to analyse and visualise entire supply chains allows retail companies to understand where risk exists and how to reroute supplies in a cost-efficient way when sudden changes or disruptions occur.
See our website for more details and if you are also using Advanced Analytics to drive bricks-and-mortar retail site planning, download our playbook for post-pandemic site selection.
Florence Broderick is chief marketing officer at Carto
Florence Broderick leads Carto's demand generation, content, product marketing and SDR teams to translate the value of location intelligence to existing and prospective clients, generating demand for spatial analysis use cases on our platform. Prior to joining Carto, she global head of marketing and communications for LUCA, Telefónica's specialist big data unit.

Carto is the world's leading location intelligence platform, enabling organisations to use spatial data and analysis for more efficient delivery routes, better behavioural marketing, strategic store placements, and much more. Data scientists, developers, and analysts use Carto to optimise business processes, and predict future outcomes through the power of spatial data science.