Marks & Spencer plagued by uniform availability and Ikea's porcelain throne.
M&S plagued by availability… of staff uniform
Marks & Spencer is continuing to be plagued by stock availability issues, now with its employee uniform.
A former staff member took to Twitter to express his bemusement when his uniform arrived four months after he had left his job.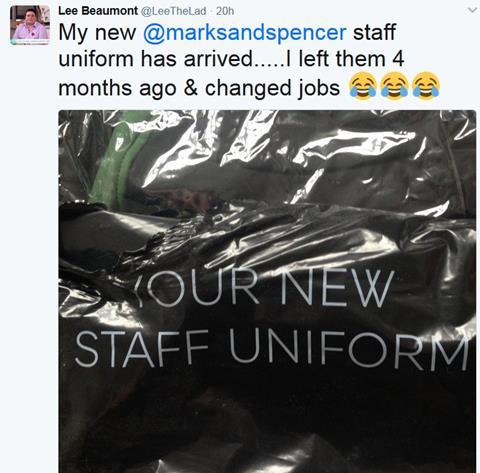 Unfortunately for M&S, Lee Beaumont is also something of a retail commentator, talking about consumer issues on shows such as ITV's This Morning.
His tweet attracted the attention of Poundland store manager Andy Wroe, who commented on the distinction between M&S and Poundland, saying "How very posh. We have a box and help yourself."
Ikea's porcelain throne
Retailtainment gone mad, or merchandising genius?
This toilet display in Ikea excited Game of Thrones' fans last week, when a shopper posted the picture on Reddit.
The display has apparently been set up to resemble the Iron Throne from Game of Thrones.
It's not clear as to whether the installation is permanent or which Ikea it is located in, but it certainly is an innovative way to hang toilet brushes.