Retailers are divided on how to fulfil Prime Minister David Cameron's calls to offer staff pay rises.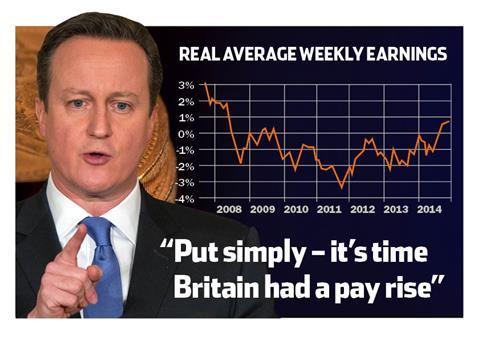 Some have pointed out they are already raising industry standards while others have questioned how the improved packages will be financed.
Cameron said at the British Chambers of Commerce annual conference on Tuesday that it is time to "give Britain a pay rise" because business conditions "have not been this good for a long time".
His message came as real average weekly earnings, which take into account inflation, are improving after five years of decline, according to figures from the Office for National Statistics.
The debate over pay particularly affects retailers, who are the UK's largest private sector employer with 3 million employees, but sometimes face criticism over wages.
Some retailers are already leading a charge on pay. Well, formerly Co-operative Pharmacy, has revealed inflation-busting pay hikes.
Well chief executive John Nuttall said: "We have announced a pay reward of 3% for our lowest-paid employees, so we have beaten Mr Cameron to it.
"We decided on above-inflation pay rises for lower-paid staff because we want to raise the bar. We will also offer pay rises to our other staff members. We are strong believers that we share our business success amongst our colleagues."
Dunelm chief executive Will Adderley said the homewares retailer already pays above the minimum wage and would be "very supportive" of a switch to the 'living wage'.
He said: "The more the market pays, the better the economy is, and we care for our people. It [higher wages] is not something we wish to resist – we are supportive."
But other retailers have questioned whether paying the living wage would be affordable.
Dixons Carphone boss Seb James said last month: "Moving to the living wage is extraordinarily expensive. We have aspirations to move there and we want to make progress every year."
Dreams chief executive Mike Logue echoed James's view. He also said that high business rates are a barrier to higher wages.
"Our focus is to increase pay in the lower-paid areas of the business.
"However, our business rates bill is still higher than our profits after rates increased 16% over the last five years," he said.
New Look chief financial officer Mike Iddon said the fashion retailer also "remained committed" to fair pay and benefits, offering minimum wage or above across all its stores.
BRC director-general Helen Dickinson said: "The BRC emphatically agrees with the Prime Minister that low pay is a serious issue.
"However, we believe that tinkering with hourly pay rates or politicising the minimum wage won't bring about sustainable change."