Retail Week has published its annual Retail 100 ranking, representing the most influential people across UK retail. Decided by Retail Week's team of journalists based on eligibility criteria, the list sees new entries in D2C, the domination of food and grocery leaders and a decrease in female leadership.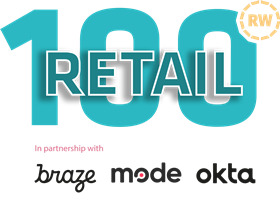 Featuring 100 retail leaders, including 16 new entries and 20 women – down from last year's record of 23 – here are the key numbers from this year's list.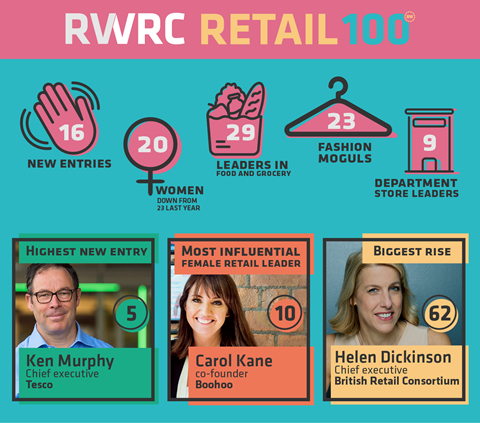 How is Retail 100 decided?
This year's Retail 100 places emphasis on those leaders who have shown continued resilience and stepped up their support for colleagues and customers during the Covid-19 pandemic.
Retail 100 is decided by Retail Week's team of expert journalists using the following criteria to assess who qualifies and where they should rank:
Making headlines in 2021: Based on the extent to which the individual and/or the retailer they represent has been making headlines and gaining column inches for positive reasons.
A spokesperson for the retail industry: Based on how vocal the individual is about key issues impacting the sector.
Innovator: Based on whether the individual has brought about innovation in the business and/or been a force for change in the retail sector – particularly in their reaction to the pandemic.
Financial performance: Based on group sales and group pre-tax profits of the retailer the individual represents (taking into account the impact of coronavirus).
UK scale: Based on the volume of the retailer's UK sales in comparison to group sales.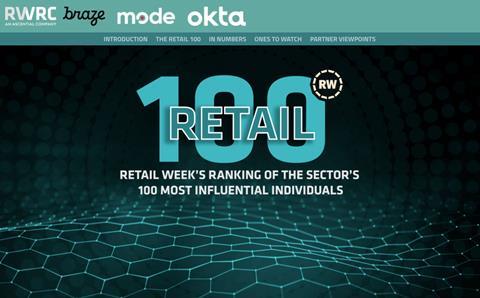 View the Retail 100 in full for free and discover the names of the most influential leaders across the sector today.
Get behind the numbers to discover which individual has taken pole position, which leaders have stepped up to the plate in grocery and which names are driving fashion forward. Plus, meet the new faces set to become the leaders of tomorrow.