With shoppers using tablets and mobiles as well as desktop PCs to view a retailer's site, responsive web design means it will resize itself for that device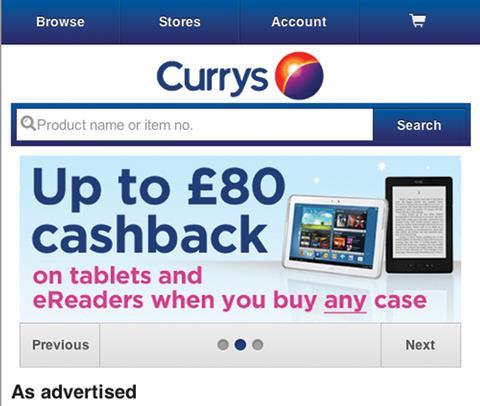 Why are we talking about this now?
As consumers become increasingly tech savvy, the pressure on retailers to keep up to date with cutting-edge web design has intensified. As a result, electricals retailer Currys and fashion etailer Cocosa have both implemented responsive web design in the past two months, making them the first retailers to use the technology.
What is it?
A website created using responsive web design will automatically detect the size of the device that an online shopper is using, such as mobile, desktop or tablet, and optimises the site for that device.
As the site gets smaller to fit the iPad or an iPhone, for example, the navigation and visual elements shift around to suit the device's size.
What are the benefits?
With responsive design, retailers no longer have to build different websites for different devices. Retailers only need to build one site, which results in less maintenance as any updates only have to be made on one site.
It also creates a more aligned multichannel experience across a brand, critically ensuring that at all touch points customers will receive the same online service.
It can also mean that users sharing pages across social media will have a better experience because the links will automatically convert into the most suitable site format for the user's device.
With the rising popularity of mobiles and tablets, responsive web design is likely to prove a critical piece of the online jigsaw for retailers.
Why aren't more retailers doing it?
The initial investment in rebuilding the site is significant and could put some retailers off, as well as the initial disruption.
But Javelin consulting manager Roger Mitchell says the investment is lower than that needed to develop a site for each device, making it much more cost effective.
"But retailers have got their existing investments and they have skilled their teams up to deal with a certain platform," he says.
"Forrester research predicts that the number of mobile devices will outnumber traditional PCs by 2016 and so we can assume that this will be a tipping point for retailers to switch to this new technology. Most of them will wait until then to swap their platforms."