How ecommerce and supply chain teams can work together to create a winning fulfilment strategy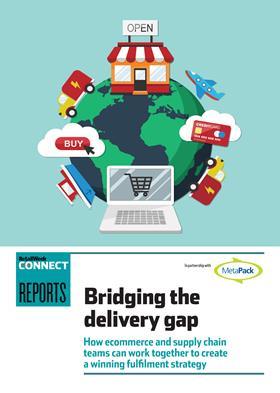 This report, produced in association with delivery management technology provider MetaPack, features exclusive, anonymous, in-depth interviews with ecommerce and supply chain directors from leading retailers, comparing and contrasting their attitudes and priorities around fulfilment.
Bridging the Delivery Gap reveals valuable insight into:
What executives believe consumers want from retailers' delivery propositions
Where they think their company should invest when it comes to delivery
Who they should be partnering with
How effective current systems are in proactively responding to order surges and priorities for future success.


At Metapack, our mission is to make ecommerce effortless, for retailers and their customers alike. Our solutions enable simple yet powerful experiences across the entire ecommerce fulfilment journey – that means more delivery options at checkout, more dependable delivery timeframes, more user-friendly tracking – even simpler returns options, if needed.