Premium fashion retailer Reiss is to launch a click-and-collect service and international websites in local languages as it ramps up its online offering under new ecommerce director Dan Lumb.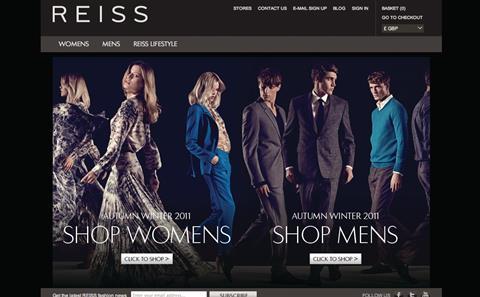 Reiss will launch click-and-collect before the end of the year as part of a raft of ecommerce plans spearheaded by Lumb, who joined Reiss in the newly created position at the end of July from fledgling lingerie chain Boux Avenue, where he was ecommerce director.
Brand director Andy Rogers would not be drawn on the exact date for the launch of click-and-collect, but he said the service would be available in time for the peak Christmas trading period.
He said that Reiss will also look to launch non-English websites to serve international territories outside the UK and US, where it sells online at the moment.
Rogers added that Reiss will be looking at a "huge list of things" in the online arena over the next few months, but declined to give further details.
He said the decision to hire a dedicated ecommerce director for the business was driven by the strong growth in online sales over the past two and a half years.
"Our website is now our largest store," said Rogers. "We need to make sure we continue to build on that and look at ways to combine shopping online with shopping in-store to make the whole experience as easy and straightforward as possible for our customers.
"About 25% of the visitors to our website go there to find store information and opening times and what we want to do is make sure that 25% also decide to shop with us while they are there."
He added: "The key thing for us is that the store and online businesses are entwined and that we service them both equally."
No one at Boux Avenue was available to comment on whether a replacement for Lumb had been recruited.
Reiss operates 86 UK stores and 15 wholly owned stores and concessions overseas. It notched up a 43% increase in EBITDA to £13.1m for the year to January 31.