Westfield has blamed the "economic and political outlook" and "structural changes" in retail for a fresh delay to its planned development in Croydon.
Construction on the 531,000 sq ft shopping centre has been pushed back from September 2019 to the first quarter of 2020.
The decision was revealed during a meeting with the local council in January, but as both development partners in The Croydon Partnership – property giants Unibail-Rodamco-Westfield and Hammerson – were in closed reporting periods at the time, neither commented.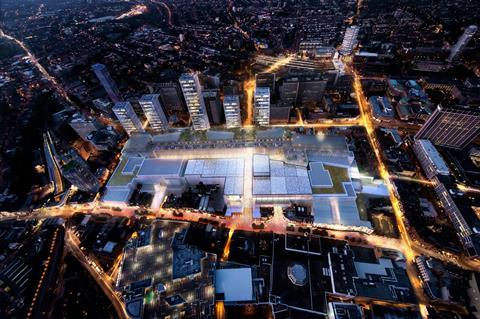 Westfield unveiled its full-year figures overnight, which showed the Croydon development's expected cost remained €1.55bn (£1.36bn) and gave a 2023 opening date. Unlike the 43 other development projects listed, however, it did not stipulate in which half of 2023 it is expected to open.
A spokesman for the partnership blamed the "economic and political outlook" as a result of ongoing Brexit uncertainty, and "structural changes" facing retail in the UK as reasons for the latest delay to construction.
"There currently remain challenges surrounding the UK economic and political outlook and the structural changes facing retail have put some UK retailers under pressure," he said.
"Given this environment, we are currently reviewing the scheme to ensure it responds to changing retailer requirements and it is appropriate for the future."
The partnership spokesman added that "the remaining freehold and long leasehold interests in the site were acquired in early February", following the local council's 2014 compulsory purchase order. However, a source close to the scheme suggested the process was ongoing.
The source added that once the land had been acquired, Westfield and Hammerson would start work on "detailed designs" that would better reflect how "retailers needs are changing".
Despite the latest delay, the spokesman insisted all of its external partners remain committed to the project.
"The joint venture partners remain committed to the project and the town centre, and believe that Croydon has strong potential with flagship destinations outperforming over the long term. We will continue to review the development timetable and work closely with all stakeholders."
In May last year, John Lewis agreed to anchor the site with a 165,000 sq ft department store, which is set to include a Waitrose supermarket. The scheme will feature more than 300 shops and restaurants, including a new Marks & Spencer, as well as a cinema.