The number of stores being closed by retailers has dropped to its lowest level in five years, according to new figures revealed today.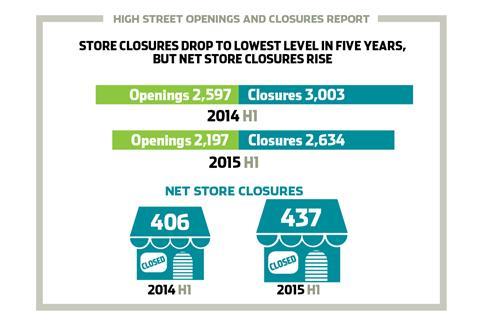 Store closures in first six months of 2015 at lowest level since 2010
But net store closures rise as number of openings drops
Study reveals lowest churn of openings and closures since 2011
Fashion retailers among sufferers as net store numbers drop again
During the first six months of 2015, 2,634 high-street shops closed across the UK, an average of 14 stores per day, down from 16 per day in the first half of 2010.
But according to research from PwC and the Local Data Company (LDC), the number of net store closures rose from 406 to 437 on the year, as the rate of new openings dropped.
Fashion retailers continued to suffer with a net decrease of 47 stores recorded during the six month period. The net number of women's clothes shops on Britain's high streets fell by 33.
Coffee shops were named as the fastest-growing chains with 26 net new stores during the period. Jewellers reported 18 net new store openings, while computer game retailers opened 14 net new stores.
"The 'double whammy' of channel shift and fewer store visits is abating for now and we are returning to a more natural level of churn."

Mark Hudson, PwC
The analysis of 65,588 outlets in 500 town centres up and down the country revealed that 2,197 stores opened in the first half of 2015, compared with 2,634 closures – a net reduction of 437 shops.
That represents a 7.6% increase year-on-year in the net number of closures. During the first half of 2014, 2,597 stores opened while 3,003 closed, giving a net reduction of 406 shops.
The PwC LDC study also revealed that the overall volume of activity recorded a combined total of 4,831 openings and closures during the first half of 2015.
That represented a 37.6% drop-off in activity compared to the same period five years ago, when openings and closures spiked at a record 7,749.
The study said this reflected "a less hostile environment for embattled retailers with fewer insolvencies and store portfolios streamlined in response to the advance of online shopping".
'Encouraging' signs
LDC director Matthew Hopkinson said the figures were "encouraging".
"Closure rates are down and the gap between openings and closures is levelling out," he added.
"This is as a result of wider consumer confidence, adjustments to market rents and, most importantly, a better understanding by chain retailers as to the role and opportunity that shops still have to play in the 'total retail' environment."
PwC retail partner Mark Hudson added: "Online sales growth is slowing and consumer spending is increasing so the dramatic impact on store numbers of the 'double whammy' of channel shift and fewer store visits is abating for now and we are returning to a more natural level of churn.
"What's clear though is that a tidal wave of change on the high street is still washing through and that consumer shopping behaviour means we're not going to go back to the traditional high streets of the past.
"The near-term winners and losers are on or off trend – for example, health food is one of the sectors thriving, but payday lending is suffering. High streets are in a constant state of evolution and that's not going to change."