As shoppers stock up on Halloween products, we take a look at some of the haunted stores where things go bump in the night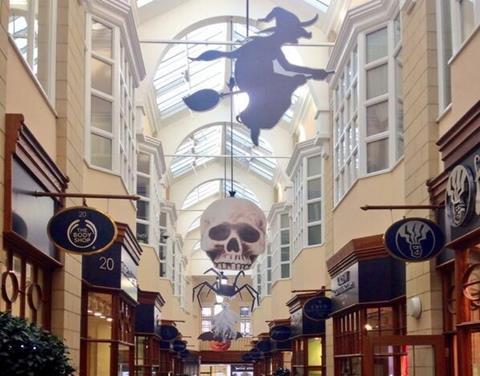 The services of a medium were called on earlier this year when a ghost that apparently disapproved of skimpy outfits gave staff the creeps.
The ghost, called Gladys, was an old lady who had formerly lived in the premises and haunted the stockroom.
"One girl heard a whispering in her ear and she got so scared she ran into a table"

Lisa Jordan, New Look
Store manager Lisa Jordan told the Exeter Express and Echo: "When we've been in the stockroom we've heard footsteps coming down the stairs. We've even heard a strange swooshing that almost sounded like a disapproving sigh.
"One girl heard a whispering in her ear and she got so scared she ran into a table. Another of my girls felt someone breathing on their neck.
"It's really weird and quite frightening."
Since the medium was called in, Gladys has been "fairly quiet".
The city's Coppergate Shopping Centre is apparently built on the site of an old Viking fort. A nearby archaeological dig was said to have awoken ancient spirits and the spooks have played mischief in stores including the former M&S branch.
"Doors in various shops have been mysteriously wrenched off their hinges," according to an article in The Guardian. "And Marks & Spencer seems to have unwittingly recruited shelf-stackers from 'the other side', and the regular staff have had to get used to goods being moved overnight from one part of the store to another."
Primark, Widemarsh Street, Hereford
Formerly a Co-op store and before that a hotel, this branch of Primark is haunted by a smartly dressed spook nicknamed Freddie who wears a blue shirt and trousers.
"One member of staff who had a first-hand account of the ghost was so upset and traumatised by her encounter that she left her job altogether," according to the website Haunted-hereford.co.uk.
"The man could be from the old Co-op store as the staff uniform was blue"

Haunted-hereford.co.uk
"It is also believed that this ghostly man travels through the shops Next to Primark, the Paperway shop which is one shop down also has a ghostly man in their shop who occasionally visits and he is seen wearing the same clothing.
"The man could be from the old Co-op store as the staff uniform was blue. The dress shop one door away from Primark on the left also has a ghost of a man in the basement so it could more than likely be the same ghost travelling in between all three of these shops."
Thorntons, Eastgate Street, Chester
A poltergeist is said to haunt this branch of the chocolatier.
"Stamping and thuds emanating from an empty room have been reported, as well as strange wailing," according to the website ParanormalDatbase.com.
"Lights flicker on and off, and doors open and close by an unseen hand. The source of the haunting is said to be Sarah, a jilted bride who hanged herself, though her presence (and poltergeist activities) are said to be 'friendly' in nature."
Phew.
Asda, Pegler Way, Crawley
The store is located on the site of an old graveyard and there have been reports of unquiet spirits.
"The most regular was the appearance of a tall man, who wears a large black coat and black hat, strolling through the centre aisles," the Crawley News reported.
"Items have also been seen flying off shelves and lights have mysteriously flickered on and off."
Wellgate Shopping Centre, Dundee
"Strange sounds which echo around the shopping centre at night are said by some to be created by a female ghost who haunts the area," according to ParanormalDatbase.com.
However, more worldly types believe the noises were the natural process of the building settling.
Do you know of a haunted shop? Let us know in the comment section below or tweet @retailweek.