In the latest instalment of our Retail Reimagined series, we explore how the ideal high street would look if it was designed today from scratch
The health of high streets and town centres has rarely been of such pressing concern.
Changing living and shopping patterns have raised fears that the high street – and the retailers that have traditionally traded there – are under unprecedented threat.
The high street has been the focus of reviews by retail adviser Mary Portas, former retail boss Bill Grimsey and most recently by Sir John Timpson, the eponymous chair of the repairs chain.
Its position remains in jeopardy – more than 23,000 shops and 175,000 jobs are forecast to disappear from UK high streets this year alone, according to property adviser Altus.
So what really makes a vibrant high street? How would the 'perfect' high street look if it was created today from scratch, and what would it comprise?
"The fundamental thing is that a high street has to be more than a street – it has to be a centre of things"

Dan Thompson, artist and pop-up shop specialist
It is widely accepted that retail is likely to be less of a feature on the high street of tomorrow.
For retail and other businesses to thrive, commerce must sit alongside social functions and civic institutions that combine to create a sense of place.
Artist and pop-up shop specialist Dan Thompson, who has been active in several town centre campaigns, says: "The fundamental thing is that a high street has to be more than a street – it has to be a centre of things."
He maintains that "they're the places we build social capital. When you unpick town centres that people say are successful, it's fundamentally social."
Dan Anderson, director at placemaking and destination development consultancy Fourth Street, observes: "My view is a high street should be a reflection of the community it's in. The clone town problem is the high street problem – they're one and the same thing."
Retail property consultancy GCW director Simon Morris adds: "There are two types of town centres that will be successful – local and convenient, and experiential. The former doesn't necessarily mean small, the latter doesn't necessarily mean big."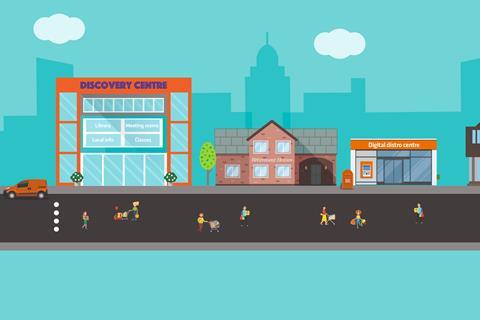 Residential requirement
The perfect high street would cater to a local community and that is reliant on housing. So the high street would not only be within easy reach of shoppers from a local hinterland but a place where people live and spend time.
There should be residential space for older and younger people alike, believes Morris. He says retirement living is often not in town centres, frequently located instead in places that are easy for others to visit.
But he argues "there's an ageing population with wealth who want to engage with town centres". Their presence would also help create a sense of ownership and security, he suggests.
The provision of student accommodation too would help create a wide age range among residents and a more diverse and successful high street.
"In the simplest sense, you need to get people to fall in love with a town centre"

Simon Morris, GCW
Each of those would imply health and educational facilities on the high street – Morris points to Oxford, Cambridge and other university towns where the colleges are in the centre as examples of the wider contribution that the latter can make.
Education is, of course, the responsibility of local authorities and civic space more generally would be a key element of the high street 2.0.
Many local authorities, like universities and hospitals, have consolidated their operations and that frequently means campuses are located outside the traditional high street.
Anderson says: "We're fixated on retailers but they're not the only ones. Libraries, offices – in the name of efficiency they've gone elsewhere. Public, private and social organisations need to find ways to discover their smaller selves."
They need to repopulate high streets if such locations are to thrive.
"Animate the high street with programming. It doesn't have to be a major event"

Dan Anderson, Fourth Street
While old-fashioned libraries may be under pressure, they can be reinvented to become town centre draws. A 'discovery centre' could combine some of the traditional information and recreational functions of libraries with access to technology, classes, meeting rooms and other community activities.
Similarly, that endangered species, the public convenience, should play its part. Morris says: "In the simplest sense, you need to get people to fall in love with a town centre. Historically, toilets are dreadful places to go but they could be places for families, with baby changing and disabled facilities."
The centrepiece of the high street 2.0 is the public square or marketplace where social, civic and business meet – a place not just of bustling commerce but for leisure too.
When the stalls close at the end of the day, the space is given over to events – anything from concerts to an open-air cinema – so it takes on a new life at different times. It is a place where people want to spend time, lined by shops, cafes and service providers.
"People happily go to places where there's something going on – festivals, events, places where the community do things for themselves," says Thompson.
"Animate the high street with programming," Anderson advises. "It doesn't have to be a major event. It would be great if it was like what landed estates [such as Goodwood] do. It would be somebody's job or could be done voluntarily, if not allowed to slip between the cracks. An acid test is people turning up without knowing what's on."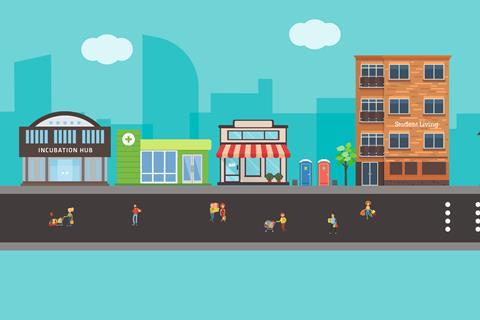 Retail reinvented
Having firmly established the civic services and social appeal of the perfect high street, what about the retail? Old ideas reinvented may make an appearance.
Where once a department store might have occupied a prominent position, it is replaced by flexible space that can be reconfigured as needed to reflect changing consumer and working habits – adaptability rather than stasis is at the heart of high street 2.0.
The building's interior walls are moveable, allowing occupants and types of use to be scaled up and down.
Retailers and other businesses may move in and out, take extra space, or downsize
Retailers and other businesses may move in and out, take extra space, or downsize. Perhaps part of the space would be devoted to co-working, stimulating spend in the 'store' and others on the high street.
"You wanted your town to have an anchor in the past. Is that required going forward?" asks Morris. "Many successful locations don't have an anchor."
A landlord could even use the property as an incubator for start-up consumer businesses, constantly responding to changes in consumer behaviour, he says.
In similarly flexible fashion, and as ecommerce grows and distribution companies seek urban hubs, perhaps retailers might convert excess trading space into digital distribution hubs, serving not just their own customers but providing a facility that could be sublet to delivery companies or even Amazon.
The managers of big chain stores would be empowered to make decisions based on their local customer base rather than purely at the diktat of head office.
Anderson points to the example of Nike, which in the US has pursued that route. Employees are recruited from a radius of a few miles of the branch, the range is curated to the local customer base and staff are active in community activities – sports, in Nike's case.
Stores would enhance their appeal by being more than just places to shop. Anderson worked on Deptford Market Yard, where potential traders were asked: "What else do you do?" An off-licence, for instance, might offer tastings. A cafe might put on film screenings or other cultural events.
Manufacturing, on a small scale, would make a return, says Thompson. Potteries, craft workshops, artists' studios and similar artisanal businesses would be prominent. He gives the example of sewing studios, springing up in locations from Margate to Swansea, which retail all the gear as well as run classes and clubs.
There would be pop-up stores, providing fledgeling businesses with the space to try out ideas and expand from if successful, while maintaining constant newness that would pull people on to the high street time and again.
Digital technology would be deployed to promote and complement the physical environment. A digital wall might switch from information to advertising to art, and even be activated and tailored by people's smartphones.
An app dedicated to that high street could enable shoppers to search for products, check availability and reserve purchases through a marketplace arrangement rather than a plethora of retailers' websites.
And what about that perennial question of cars and parking? Should the best high streets be open to traffic? No, many believe – though they should be accessible to those with cars, for the time being at least.
How long will private cars, and the consequent need for parking, be dominant?
Thompson cites research by walking charity Living Streets, which showed pedestrianised areas drew the most spend. The study found walking and cycling projects can increase retail sales by 30% or more.
How long will private cars, and the consequent need for parking, be dominant? Morris says: "If you think about autonomous vehicles, how is that going to change things when you don't need to park? Today, would a carpark be designed with the future in mind? It could be a hotel, retirement living, to future-proof the structure."
Or perhaps it could be turned into green space, also a prerequisite of the perfect high street. It might include guerilla gardening initiatives, or maybe the grocer would have a hydroponic wall from where shoppers could pluck fresh salads and herbs for that evening's supper.
The perfect high street would be adaptable, versatile and constantly renewable, ensuring its appeal would not fade like so many town centres of today.
How Twitter users would reinvent the high street
We asked Twitter users what their high street 2.0 would be like. Here are some of their ideas:
Retail Reimagined: How traditional formats might look if redesigned today
1

2

Currently reading

Retail Reimagined: Mapping out the high street 2.0

3

4

5

6

7

8