Today marks the 10 year anniversary of the opening of Westfield London – and research revealed to mark the occasion has highlighted the property giant's impact in the capital.
Westfield – now part of Unibail-Rodamco-Westfield after it was acquired earlier this year – has played a central role in redeveloping the Shepherd's Bush and Stratford areas with its two mega malls.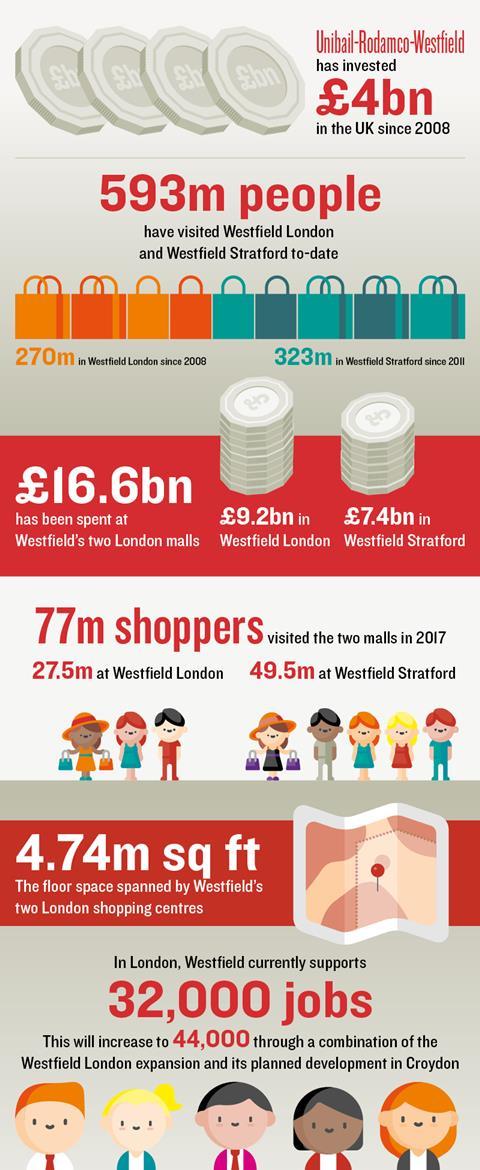 Research by Volterra Partners shows Unibail-Rodamco-Westfield has created 10 acres of public open space and donated £100,000 towards sporting facilities in the two London regions, while also investing more than £10m into education and training programmes.
But the property goliath has also helped redefine retail in the UK, bringing luxury shopping into malls for the first time with its 'Village' concept, and launching new experiential propositions like its KidZania indoor city for children.
In its 10 years in the UK, Westfield has attracted a whopping 593 million visitors and raked in more than £16.6bn in revenues, as its centres grew to rival the West End as London's premier shopping destination.
Revo chief executive Ed Cooke said: "At Revo, we know how great and sustained the contribution of retail property is all over the country from supporting jobs, skills, the development of major public realm, infrastructure and the resilience of communities overall.
"When you look at the numbers and the scope of Unibail-Rodamco-Westfield's impact on London it is truly phenomenal and a beacon of how retail property can be a game changer."
The Mayor of Newham Rokhsana Fiaz added: "Westfield Stratford City played an important part in the story of what was Europe's largest urban regeneration project at the time of the London 2012 Games. The centre brings a lot to Newham, with around a million shoppers every week, jobs, tourism and investment coming into our community.
"It has helped to build new infrastructure and transport links within our borough, as well as offering training and skills for our residents. The council is proud of the link it has developed with the centre since it opened in 2011 and how our residents have benefitted."