The four shopping centres opening across the country this year will serve as inspiration for the wider retail property market as a whole.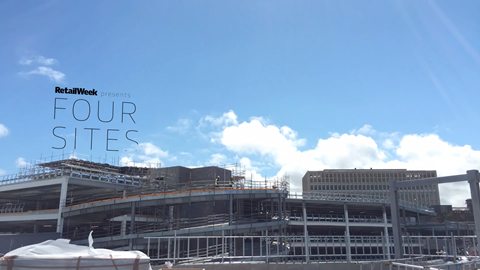 When the UK slumped into an economic downturn and headed for recession in 2007/8, the retail property industry was among the country's biggest sufferers.
Large shopping centre developments that had been planned across the country were shelved – some of which are still yet to be fully revived.
This year four big retail developments will open in the UK, the most in one year since the recession took its ruthless grip on Britain.
Among those are Westfield Bradford Broadway and Friars Walk in Newport, both of which have been on and off, then on again, as developers and retailers alike pulled out of the original schemes, only for them to be resurrected years later.
Add the rapidly approaching openings of Birmingham Grand Central and Flemingate in Beverley, into the mix, and 2015 is, as Savills' head of shopping centre leasing Mark Simms puts it, a "hugely significant" year.
Simms believes the four openings, which are looked at in depth in Retail Week's four part documentary series Four Sites, not only demonstrate "recovery in the market", but reveal that retailers and developers are once again setting their sights on more secondary locations, outside of major cities like London, Birmingham and Manchester.
New territory
That's a view supported by Harper Dennis Hobbs partner James Ebel.
"Pre-recession, retailers would be willing to take space within a shopping centre or a high street in a more secondary location. That disappeared across Europe during the recession. Retailers moved away from 'off-pitch' locations because they weren't worth the risk," he explains.
"Retailers are starting to explore different areas and be more creative with their thinking"

James Ebel, Harper Dennis Hobbs
"Demand has been high in more concentrated areas, and everywhere else has suffered. What you're starting to see with these developments is a change – retailers are starting to explore different areas and be more creative with their thinking."
Simms believes retailers have been attracted to those less sought-after locations like Newport, Bradford and Beverley by their respective local authorities.
He suggests that other smaller towns and cities will be tracking the success of these new developments intently, using them as a benchmark when formulating their own regeneration blueprints.
Beacons of inspiration
"There is some great investment going into secondary locations now. In a lot of these instances, you find that the local authority is working in partnership with the developer and they can often prove the catalyst to make these things work," Simms says.
"These centres show that local authorities have longer term visions and aren't necessarily looking for a direct financial return to make it work, but believe in the wider regeneration in their town or city centre. That's what has made these centres work and that will be the key to other similar schemes moving forward.
"Does that mean we can develop every secondary town? No, but it does show that the green shoots of recovery in the market are here."
Simms believes that this year's four openings could prove the inspiration for other secondary towns to revive their retail dreams.
"There are so many developments that were put on hold in 2007/2008 like Northampton, Bedford and Aylesbury, which all had significant schemes planned for them. Some of those may now come back to life, but in a different guise," Simms adds.
"The local authorities will be looking at places like Newport, not just to see if they make money, but also at more intangible things – is the centre helping youth unemployment? Is it helping to reduce inner city crime rates? That's where local authorities will look at these centres, perhaps over three to five years, to pick up positive lessons and shape their future development plans."
Blueprints for the future
There is no doubting the significance of 2015 to the retail property scene, and it's clear to both Simms and Ebel that this is just the beginning of what could prove to be a fruitful few years.
"It's not just so much that these four are opening this year, but more relevant to the overall retail environment is that most of the other retail developments that were put on ice five or six years ago are now in their full development phase. That's great news for the overall retail environment," Ebel adds.
"The development pipeline over 2017 and 2018 is looking very healthy indeed as well. There's the likes of Oxford Westgate, Buchanan Galleries in Glasgow extending, Westfield London extending, Brent Cross, Lakeside and Bluewater all extending – and that's just to mention a few. The future is quite exciting."
As the centres in Birmingham, Bradford, Beverley and Newport near their eagerly-awaited completion, that exciting future starts now.