Walmart has unveiled plans to build 'town centres' in the car parks of its existing big-box stores in the US.
The retail giant has launched the Walmart Reimagined initiative, through which underused parking space could be converted into mixed-use developments featuring local and national food vendors, stores, bars, entertainment venues and green space.
In September, Hat Creek Burger, a Texas-based chain, opened a restaurant on the property of a Walmart Supercenter in Temple, Texas – the first partnership under the scheme.
The approach will be replicated at Loveland, Colorado; Bryan, Texas; and Tummwater and Shelton in Washington. Other locations are under consideration.
Walmart says it wants to give up-and-coming local firms an opportunity to attract some of its customers.
Analysts say the venture is an attempt to meet the demands of younger consumers who want a pedestrianised, city-style shopping and lifestyle experience, as well as a way to take advantage of all the space it owns.
A Walmart spokeswoman told Retail Week Walmart Reimagined is an "exploratory concept".
She said: "Walmart Reimagined is an exciting approach to how we serve our customers by moving beyond the store's four walls and reimagining how we might use our unique assets — our existing stores and the surrounding land — to transform how customers experience Walmart.
"In each of these locations, we are looking for real estate developers who are excited to partner with us in reimagining how customers might experience Walmart.
"Whether a project materialises over time, however, depends largely on identifying the right real estate developers and gaining community support for this innovative development approach."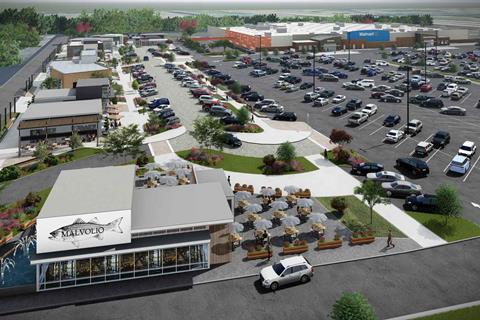 'Strategically brilliant'
Robin Lewis, chief executive of retail consultancy The Robin Report, described Walmart's plan as a "jackpot".
He told Retail Week: "It's more than just a clever move, it's strategically brilliant.
"They are going to turn these big buildings into compelling destinations for millennials.
"Having a great product at a low price doesn't win any more. Physical stores have to become compelling spaces with farmers' markets, event spaces, somewhere to have a drink, a bite to eat and leave their pets."
Karl McKeever, managing director of retail agency Visual Thinking, also liked the idea, particularly from a reputational point of view.
He said: "They are saying 'we're a part of your community' and 'we are a retailer that serves your grocery needs and serves as a place to meet'.
"Grocery brands need to recognise their customers also own businesses. It's part of giving something back.
"It's corporate goodwill, but there's a sound business case as well."
"Consumers are attracted to combining retail and entertainment and this move is exploring it even more"

Ana Serafin Smith, National Retail Federation
Natalie Berg, retail analyst and founder of NBK Retail, said Walmart is aiming to develop the "experiential" aspect of customers' shopping experience, as well as potentially offering partner etailers – including those it owns such Bonobos – the chance to move into bricks and mortar.
She said: "We're seeing a blurring of retail, hospitality and leisure.
"This is how bricks and mortar can differentiate, capitalise on the local community and form a deeper personal relationship with shoppers.
"They need to transcend the transaction by partnering with independents and online retailers who want to take the transition into the physical space."
Similar thinking to Walmart's is being adopted in the UK.
Shopping centre group Intu plans to turn part of its Intu Lakeside site in Essex into a '21st century town centre' by sacrificing some of the 13,000 car parking spaces for leisure amenities and housing.
Martin Breeden, development director, said similar schemes could be rolled out at Intu's other locations.
He said: "We're giving people another reason to come, as well as draw them from further away.
"All of these locations offer more reasons to live, work and play."
Breeden also said the initiative is partly to future-proof locations as public transpsort and, eventually, self-driving cars, become more important. "We have identified a long-term trend towards sustainable transport," he said.
Retail revolution?
Ana Serafin Smith, senior director of media relations at the National Retail Federation in the US, is less convinced the Walmart Reimagined concept is quite so revolutionary.
She said: "This is not much different than what developers in the mall industry have been doing for a long time.
"As we have learned over the years, consumers are attracted to combining retail and entertainment and this move is exploring it even more by developing a community that people can go to."
LB Johnson, Walmart's vice president of US realty operations, said at a conference last month: "We are working with the local community to really masterplan a vision, not only for Walmart, but shared with the municipality.
"We are going to hold ourselves accountable to the community to improving wellbeing."
Walmart has been praised for its commitment to innovation – analysts have been largely positive about its acquisition of etailers including Bonobos and Bare Necessities, as well as investment in-store pick up and home delivery.
As shopping habits change, all eyes will be on Walmart to see whether the transform of its physical estate turns out to be equally innovative.
Walmart CEO Judith McKenna is speaking at Retail Week Live 2019, delivering the opening keynote on Wednesday 27 March. Find more details here.