Eye-watering business rate rises have made trading in central London more costly than ever. With some retailers shutting up shop, can the West End survive?
Retailers and businesses in London's West End are staring into a £1.36bn business rates bill this financial year, a whopping 36% more than in 2016/17.
Selfridges will fork out an eye-watering £17.4m in business rates on its flagship Oxford Street Store alone this year, 60% more than the £10.9m paid in 2016/17, according to research published by property advisers Altus Group.
The department store chain tops a list of West End businesses facing the biggest rate rises, a list that features retailers such as John Lewis, Debenhams, Primark, Marks & Spencer, House of Fraser and Topshop.
Rate rises in the West End
| | | | | |
| --- | --- | --- | --- | --- |
| Store | Rates payable 2016/17 | Rates payable 2019/20 | Third year change (£) | Third year change (%) |
| Selfridges 398-454, Oxford Street | £10,929,380 | £17,407,280 | £6,477,900 | 59.27% |
| John Lewis 278-306, Oxford Street | £6,555,560 | £10,432,840 | £3,877,280 | 59.14% |
| Louis Vuitton 17-20, New Bond Street | £2,005,960 | £4,427,800 | £2,421,840 | 120.73% |
| Debenhams 334-338, Oxford Street | £3,407,030 | £5,433,880 | £2,026,850 | 59.49% |
| Ralph Lauren 1-5, New Bond Street | £2,083,510 | £4,050,520 | £1,967,010 | 94.41% |
| Chanel 158-159, New Bond Street | £1,633,270 | £3,458,400 | £1,824,680 | 111.69% |
| Marks & Spencer 456-472, Oxford Street | £2,993,430 | £4,820,800 | £1,827,370 | 61.05% |
| House of Fraser 308-332, Oxford Street | £2,931,390 | £4,721,240 | £1,789,850 | 61.06% |
| Burberry 21-23, New Bond Street | £935,770 | £2,661,920 | £1,726,150 | 184.46% |
| Christian Dior 160-162, New Bond Street | £1,106,380 | £2,766,720 | £1,660,340 | 150.07% |
| Primark 14-24, Oxford Street | £1,509,640 | £3,065,400 | £1,555,760 | 103.06% |
| Primark 499-517, Oxford Street | £1,825,010 | £3,327,400 | £1,502,390 | 82.32% |
| Topshop 214-218 Oxford Street | £2,347,180 | £3,835,680 | £1,488,500 | 63.42% |
| Forever 21 360-366, Oxford Street | £1,969,770 | £3,364,080 | £1,394,310 | 70.79% |
| Victoria's Secret 111-117, New Bond Street | £1,473,450 | £2,845,320 | £1,371,870 | 93.11% |
| Marks & Spencer 169-173, Oxford Street | £2,145,550 | £3,500,320 | £1,354,770 | 63.14% |
| Nike 230-236, Oxford Street | £1,432,090 | £2,703,840 | £1,271,750 | 88.80% |
Why the huge rates hike?
The amount owed in business rates is set by the "rateable value" of the property – based on the yearly rent for which the property could be let – which is then combined with a multiplier set by the Government. The underlying property values that are used are always from two years previously.
Business rates are recalculated every five years. However, the latest revaluation in 2017, based on 2015's rental figures, should have happened two years previously.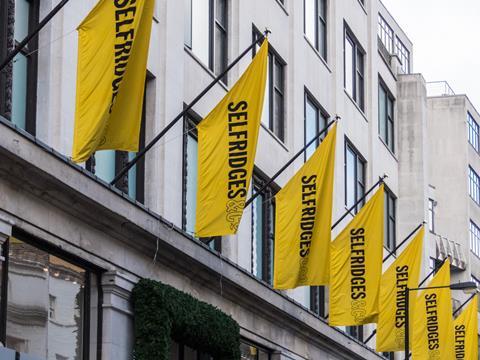 It was postponed in 2015 because the Government wanted to avoid the political headache of major changes to business rates bills in a general election year. But because of that delay, the disruption has been greater.
Business rents have changed significantly in the seven years between revaluations, especially for retail space in London, meaning that many retailers in the capital were dealt a significantly higher bill.
Altus rating policy executive Paul Turner-Mitchell says: "You're effectively comparing rents of April 2008 with rents in 2015, so it's a huge gap. There was bound to be huge swings and huge volatility because of the length of the gap."
Strategic adviser to the New West End Company Paul Barnes agrees, saying every time there's a revaluation "London's share of business rates goes up and up, because property values in the capital outstrip other property values but they don't really relate to the activities of the occupier".
Will the West End survive?
Cushman & Wakefield head of central London retail Peter Mace says that many retailers in the West End have found themselves caught in a "perfect storm" of declining footfall, Brexit-related consumer uncertainty and shoppers migrating online. For him, rocketing business rates on West End fascias are the cherry on top.
"Rates are starting to bite into retailers' profitability," he says. "Rents have equally gone up substantially – you've seen 100% growth in five years. It's a perfect storm."
Harper Dennis Hobbs head of retail consultancy Jonathan De Mello agrees. He says business rate increases will affect even the very largest retailers in the West End, regardless of how long they have had to prepare.
"For many retailers where cash flow is tight, consumer demand is lower than it used to be and like-for-like sales are either the same or falling, it's not really fair to them to then have to take a massive rates increase."
But can retailers weather this storm or will they be forced to turn their back on the UK's premier shopping district?
Mace says there is "no question" that 2019 will see more retailers closing and downsizing stores in the West End.
He says: "I think you will see an increasing amount of retailers closing stores, putting them on the market, closing them because they've got a lease renewal coming up and they're no longer profitable or if they've got two West End stores they might close those and open one, slightly bigger store."
"There aren't queues of retailers who want to open stores on Oxford Street at the moment"

Peter Mace, Cushman & Wakefield
Matthew Hopkinson, co-founder of retail and property consultancy Didobi, predicts the rates rise will "weed out a number of marginal retailers" from the West End and thinks any fashion retailers that make very little profit will struggle to trade there.
"I think they'll increasingly realise that, with the right online presence and being in other locations which don't necessarily have to be the West End, they can still get same customer penetration," Hopkinson says.
New Look closed one of its West End flagships at Marble Arch as part of its CVA last year. The unit remains vacant.
But it's not just struggling retailers that are closing West End stores. Mace points out that Next, which is fastidious at churning its store estate to manage the profitability of each store, closed two smaller satellite stores they had on Oxford Street to open a bigger flagship in the Plaza shopping centre.
International fashion giants H&M and Zara, both of which have many stores in the West End, have also consolidated stores in the area. Zara has closed its store in Oxford Circus, while H&M is understood to be offloading its 360-366 Oxford Street store, close to Bond Street station.
Meanwhile, there are fewer property deals being done in the West End. Mace says last year there were only three deals done on Oxford Street and two on Regent Street, which he says compares to around 16 and 10 deals, respectively, in a "good year".
"There aren't queues of retailers who want to open stores on Oxford Street at the moment. As lease renewals come up and retailers decide not to renew I think you will see an increase in vacancy rates over the next year," he says.
Who will fill the void?
However, there is one place in the West End that has held up in terms of attracting new entrants: Bond Street – home of the luxury brand.
Mace says: "There were 12 deals done on that street last year, and I think the reason for that is those retailers are less internet-reliant."
Hopkinson believes upmarket retailers might take a more prominent role in the West End. "I think it'll become more niche and premium in terms of what you see along, say, Regent Street," he adds.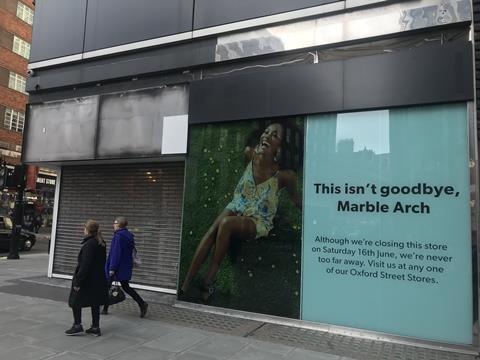 In terms of the UK's most famous shopping street, Hopkinson believes Oxford Street will change "very radically" and thinks retail may have a less prominent role.
He believes businesses such as gyms and co-working spaces – something that both John Lewis and Debenhams have considered devoting space in their Oxford Street flagship to – could fill the void of retailers moving out of the West End.
Meanwhile, the West End may have an even greater international feel. Mace says 95% of demand is currently coming from overseas retailers and that has been a trend for the last five years.
"There aren't many homegrown retailers expanding aggressively at the moment. You're beginning to see a few from Japan, South Korea and the Middle East," he says.
Will there be any rates respite?
With the chancellor's spring statement due in March, is there any possibility of a rates decrease on the near horizon for larger retailers? Few are convinced.
"I doubt it," says De Mello. "The £900m of reliefs introduced at the autumn budget was about pandering to independent retailers. For the government, promoting big business is important but they think that if there's profit there, they should have a bigger piece of it."
Turner-Mitchell agrees. Of Philip Hammond's rates relief package in the autumn, he asks: "What have the large retailers and chains got out of the last budget? Nothing, other than a 2.4% inflationary increase in tax liabilities."
"If they do reduce business rates, that money is going to have to come from somewhere else"

Ed Cooke, Revo
Revo chief executive Ed Cooke is more hopeful of Treasury intervention but is realistic on timelines – particularly given Brexit.
"With what's happening with Europe at the moment, it's quite hard for anyone to get enough bandwidth to talk about anything other than Brexit," he says. "We also understand, even if we don't accept, the Government's point on fiscal neutrality. If they do reduce business rates, that money is going to have to come from somewhere else."
However, there may be some respite in the longer term. The Commons Treasury committee launched a fresh inquiry earlier this month, which will examine if the current business rates system works and explore whether alternative policies, such as the proposed digital services tax or a land value-based tax, could level the playing field between bricks-and-mortar retailers and online players.
Everyone in retail, particularly those trading in central London, will be hoping for some relief from the increasingly heavy burden of business rates. But if changes are not introduced soon, London's shopping mecca could have a distinctly different feel.