Apple is undertaking a major redesign of its flagship Regent Street store and is reportedly set to relocate its Birmingham store.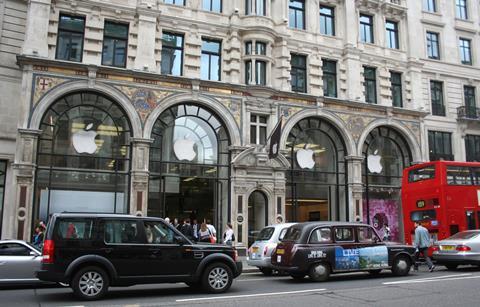 The tech firm is working with Norman Foster's architecture firm on the Regent Street store redesign as it seeks to overhaul the store it first launched in 2004.
The borough of Westminster has approved plans to "re-imagine" the overall customer experience and address the "tired and outdated interior sales area", according to The Evening Standard.
Apple tasked Foster + Partners, which has also designed Apple's new headquarters, over two years to work on the new design for its retail stores.
The updated Regent Street store will remove the Apple logos from the store front to help natural light reach the retail floor and preserve the character of the façade.
Approved plans
Plans approved by Westminster state: "The brief looked to re-imagine the overall customer experience within the store and address a tired and outdated interior sales area."
They continue: "Part of the proposed works is also removing the four Apple Logos from the Regent Street facade.
"This assists with natural light penetrating the retail floor and preserves the historic character of the facade."
The front portion of the mezzanine will be removed and a double height entrance will be built to bring more natural light inside and improve the "customer journey".
Apple plains to replace the main glass staircase from the 11,000 square feet store with two "dramatic" staircases.
The retailer has been granted permission to run a temporary store in the basement for as long as three years while the work is undertaken.
Birmingham relocation
Meanwhile, Apple is understood to be close to securing a location in Birmingham that is five-times bigger than its current outlet in the city.
The Birmingham Post is reporting Apple will imminently sign a deal on taking over the six-storey Waterstones store in New Street.
An Apple spokeswoman said: "We have not confirmed another store in Birmingham."