He may have revolutionised retail during his time at Apple, but his short tenure as chief executive of JC Penney ended in disappointment.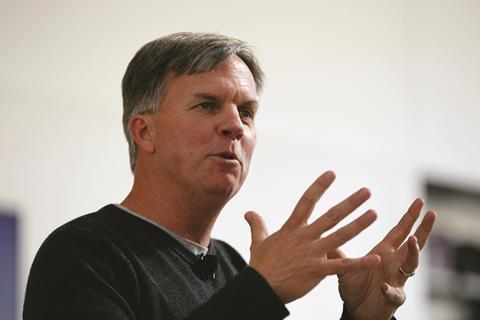 JC Penney's headquarters in Plano, Texas are just 20 miles from Dallas - and the department store group's affairs this month would make an engaging storyline in the long-running US soap opera of the same name.
The retailer's chief executive, Ron Johnson, was last week ousted after 17 months at the helm, and in a dramatic twist, his predecessor Mike Ullman took up the post again.
The switch marks the end of a tumultuous year-and-a-half for the department store business in which Johnson's plan to turn the retailer around struggled to catch shoppers' imaginations.
The debacle represents a surprise failure for a figure who had become synonymous with advances in modern retailing.
Johnson's pedigree was unquestionable when he arrived at JC Penney shortly before Christmas 2011. A Stanford economics graduate, he also has an MBA from Harvard and is the son of an executive at FMCG giant General Mills.
Growing up in Edina, Minnesota, Johnson enjoyed a successful high school sports career as captain of the baseball and football teams. That propensity towards leading teams was to stand Johnson in good stead.
He turned down offers from investment banks Goldman Sachs and Salomon Brothers, and instead tried his hand at retail, joining the now defunct California-based department store group Mervyn's.
He then joined US general merchandise giant Target, where he was credited with launching an exclusive line of products created by architect Michael Graves, as well as adding other key brands to the retailer's selection.
He rose to the position of vice-president of merchandising at Target, before joining Apple in 2000 as senior vice-president of retail. Johnson opened the electricals giant's first store in Virginia in 2001 and during the following 10 years Apple reinvented the function of the shop, focusing on allowing shoppers to try out products in store and creating engaging retail environments.
His track record caught the eye of JC Penney's largest shareholder, Bill Ackman, who later spearheaded his exit. Johnson was intent on enacting a rapid turnaround of the retailer, which has been struggling since the onset of the recession began squeezing its core Middle-American customer base.
Johnson said that he intended to duplicate Apple's success. "We're going to learn that the best days aren't in the rear-view mirror. They're right down the road," he stated when he joined.
He wasted little time in setting out a plan for growth that encompassed simplifying the in-store offer through the introduction of 100 shop-in-shops selling a variety of categories in its 700 largest stores and moving away from promotions.
His grand plan was to turn JC Penney, which opened its first shop in 1902, into "America's favourite store" by the end of 2015.
However, a series of setbacks last year, including a legal wrangle with rival Macy's and a poorly received TV marketing campaign, further exacerbated the 1,100-store retailer's already declining sales. Johnson appeared to have underestimated the task in hand.
He has also been criticised for not tackling problems facing many international multiples - over-expansion of the store estate and online competition - as well as rushing into a new pricing model without researching whether customers wanted promotions to be pared back.
His new team of executives, plucked from former employers Apple and Target, came under fire for not understanding JC Penney's core customer.
He said earlier this year: "I told you transformations are unpredictable and can be bumpy, and this one has been."
While Johnson's road to revitalise his career will no doubt now also be bumpy, his achievements at Apple should enable him to move quickly through the gears and back into a top job.
Career history
2011 to April 2013 JC Penney, chief executive
2000 to 2011 Apple, senior vice-president of retail
1985 to 2000 Target, various positions including vice-president of merchandising
1984 to 1985 Worked at Mervyn's