The new chief executive of specialist sports retailer American Golf should quickly get into the swing of things as he focuses on continued growth and multichannel.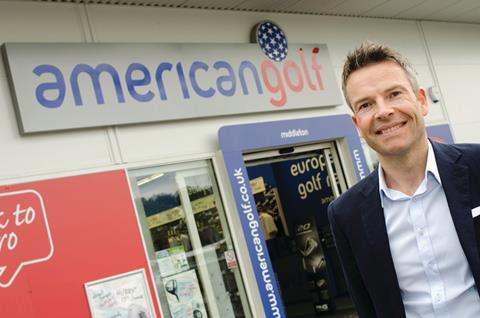 Sports-mad Kevin Styles seems to have scored a hole in one with his new role as chief executive of American Golf. But while Styles is a keen golfer, he is likely to spend more time off the putting green than on it as he strives to continue the momentum that the specialist retailer is enjoying.
He takes the helm at a time when the specialist sports retailer has returned to profit – last week American Golf revealed it made a £2.8m pre-tax profit for the year to January 29 against a £1.5m loss the previous year.
Styles will aim to maintain this growth and Bernard Dooling, owner of design consultancy 20:20, certainly believes he has the drive to succeed. The pair first worked together about 10 years ago when 20:20 was hired by Styles' former employer drinks retailer Thresher.
"He radiates energy," says Dooling. "I always thought he would be one of the top talents in retail. Like other big retailers Kevin has really good people management skills. He has a natural aptitude with people, which is a really powerful skill."
The 40 year old has carved a varied career after shining at the tender age of 27, when he was made a main board director at Thomas Cook. He has built up a wealth of experience since, including at B&Q-owner Kingfisher and big-box electricals giant Best Buy's UK business, where he headed the marketing division for two years until March 2011.
Styles left Best Buy before it revealed plans to quit the UK and joined Habitat in his first chief executive role. One close friend describes him as a "glass half full" person.
Dooling agrees: "'If' is not a word that is in his vernacular, it's all about 'will'."
Such positivity will have helped him in approaching the difficult Habitat turnaround, along with chairman Phil Wrigley.
According to Dooling, Styles quickly got to grips with the Habitat business, and figured out a recovery plan "within a matter of weeks". Although Habitat ended up calling in the administrators before being sold to Home Retail, Dooling says that Styles' speedy and efficient way of working "is one of his great assets".
Another asset, he adds, is Styles' determination to help his team grow and progress and allowing them the space to be creative.
"It's about seeing whether the team can rise to the challenge," says Dooling. "He sets them standards and wants to move quickly. He's charming but he's also very demanding.
"Kevin gets excited about what he's doing. He tends to see the good but if something is not right, he'll say it with no frills," adds Dooling.
Styles ensures he has his finger on the pulse of retail, making sure the customer is at the heart of the offer in each of his roles. Another close friend says he works with four key principles in mind: a retailer must be clear on the market; the customer; the management team; and financial control.
He says Styles is also focused on improving the multichannel experience and does not underestimate the importance of online retailing – an area where American Golf has a growing presence.
Styles' attitude of grit and determination also extends to his personal life. A serious road cyclist, Styles plans on embarking on a 100-mile race Next year. And with his roots in Cornwall he also enjoys surfing whenever he goes back to his childhood home.
With a breadth of experience and a can-do attitude, Styles looks well set to take his first swings at American Golf.
Career history
June 2012 Chief executive, American Golf
May 2011 to August 2011 Group chief executive, Habitat
2009 to 2011 UK marketing director, Best Buy
2007 to 2009 Managing director, Kingfisher, Trade Depot
2006 to 2007 Commercial director, Kingfisher, Trade Depot
2004 to 2006 Development director, Kingfisher, Trade Depot
2001 to 2004 Sales and marketing director, Thresher Group