The co-founder and co-managing director of Poundworld is driving rapid growth and rocketing sales at the family business.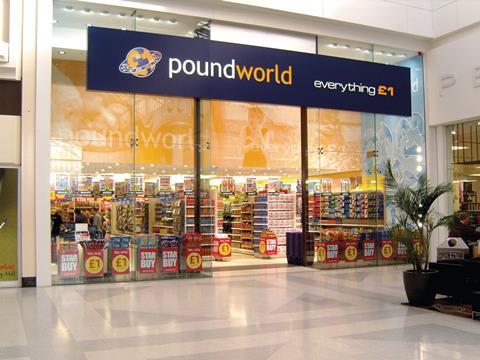 The co-founder and co-managing director of value retailer Poundworld is a determined man and he knows the value of hard graft when it comes to old-fashioned retailing.
Edwards started at the family business when it was a market stall owned by his parents. He soaked up the trading atmosphere three days a week after primary school, getting stuck in to retailing in its barest form.
Since then, Edwards and Poundworld have come a long way. The retailer's big, blue shopfronts attract hordes of regular customers keen to snap up bargains to suit their constrained budgets.
Last week, Poundworld revealed that sales had rocketed 55% to £206m in the year to March 31 and EBITDA surged 38% to £8.6m.
But it posted a slump in pre-tax profits as it ploughed investment into new stores, distribution infrastructure and back-of-house facilities.
Poundworld opened a significant 52 stores in the year and opened its 200th shop in August. But despite successful expansion, Edwards is unlikely to rest on his laurels.
He said in a BBC radio interview last month: "There's no sitting back. I still see a massive overdraft, 4,000-plus staff waiting for their wages, landlords waiting for their rent and I see a massive commitment. I know I have got to be on it 24/7 so I can keep everybody happy."
Edwards opened his first store in 1975 in his hometown of Wakefield in West Yorkshire. His personal bank, NatWest, loaned him £2,500 to build a new shopfront on a vacant store that stood opposite the bank, a small sum compared with today's huge retail costs.
The stock was then bought with credit facilities and the retailer traded under the multi-price fascia Bargain Centre. Two more stores followed within the next four years, which was quick growth for such a fledgling retailer. In that time Edwards' brother Laurie joined the business, becoming a partner and joint managing director.
It wasn't until 1997 that the brothers opened their first single-price store under the fascia Everything's £1. In 2004, all stores were rebranded to Poundworld.
Now, there is no stopping the value Goliath, which is eyeing another 150 stores to cover the UK. Over the past two years it has also hopped across to Ireland, opening six stores.
One of Edwards' fellow retailers calls him "passionate" about the industry, which is clear in the hard work he has put in to build the business.
He has previously said he is not in the business just to make money, and that he enjoys the "buzz" of seeing the retailer progress and develop.
The Poundworld business is expanding further with multi-price fascia Discount UK, which allows it more flexibility on margins and trades from larger stores.
Smaller sites have been a focus more recently too, and Edwards is hoping to push ahead with expansion of its Poundworld Express stores in built-up locations such as London.
Poundworld and Edwards were the subject of a BBC programme last month, pitted against rival single-price retailer 99p Stores in a documentary about the success of the value retail sector over the past four years.
And competition remains fierce. As Edwards, described in the documentary as "charismatic", says: "We like to think that our stores are more welcoming, cleaner and tidier and our range of products offers much more choice for customers [than 99p Stores]."
Poundworld looks set to remain a family business for some time to come. Edwards' son, Chris Edwards junior, has, much like his father, grown up with the retailer and is now trading director.
It is clear that Edwards has not only created a business based on value for money, but also strong family values.
Did you know?
Edwards also owns a large, successful cabaret nightclub in Manchester called The Birdcage.