Founder, president and chief executive, Amazon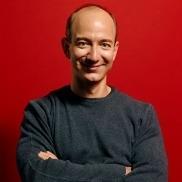 Amazon was the original trailblazer for online retail. For many consumers, buying a book on Amazon, which launched in 1995, was their first experience of ecommerce and it has paved the way for the bustling online retail market we have today.
But now Amazon is not just the place to pick up a paperback, you can buy anything from clothes to car parts and groceries.
Despite it having international sites in countries including the UK, Germany and China, Bezos has maintained control of the business and it is still very much his vision and ambition that has kept up the momentum. Bezos still continues to drive innovation. Its product categories are constantly growing and it continues to grab market share in its non-core markets, such as clothing.
It is also expanding beyond its core site. It acquired film rental business Lovefilm this year and moved into private Sales with the launch of US site MyHabit.com last month.
Bezos has consistently kept Amazon at the top of its game. His launch of the retailer's electronic book reader Kindle has proved the sceptics wrong, and analysts at Citigroup for one predict it will account for 10% of its sales next year. Bezos has proved himself to be a technological genius and a mastermind at predicting what online shoppers want before they know it themselves.