Like-for-likes 'positive' in first quarter
Poundland performing 'ahead of plan'
Value variety store business Poundland has notched up a quarterly like-for-like sales rise, owner Steinhoff reported.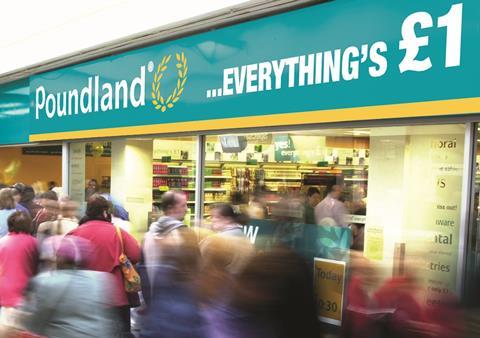 Poundland also performed "ahead of the value creation plan", said Steinhoff chief executive Markus Jooste.
Steinhoff, which owns retailers including Harveys and Bensons for Beds in the UK and Conforama in Europe, reported total sales up 45% to €5.3bn in its first quarter, ending December 31, 2016.
Poundland, along with another recent Steinhoff acquisition, Mattress Firm, contributed €1.3bn of the total. Excluding them, group revenue rose 11%.
Sales at Steinhoff's general merchandise division, including Poundland, climbed by 66% to €1.8bn. Excluding Poundland, revenues rose 17%.
Jooste said that that Steinhoff continued to benefit from its positioning at the value end of the market and that its European general merchandise business generated "strong double digit like-for-like sales growth", excluding the effect of the Poundland acquisition.
He said: "The Poundland business's performance was ahead of the value creation plan and positive like-for-like sales was achieved for the quarter."
Steinhoff bought Poundland last summer for £597m, having earlier attempted to acquire Argos.
At its household goods division, which includes Harveys and Bensons, Steinhoff that revenue "was maintained on a constant currency basis, notwithstanding the challenging post-Brexit UK environment".
Based on the year so far, Steinhoff expects to continue to perform in line with expectations.