Retail chairmen including Sir Stuart Rose and Stefano Pessina have offered their views on the big policy decisions as part of a study by Korn Ferry.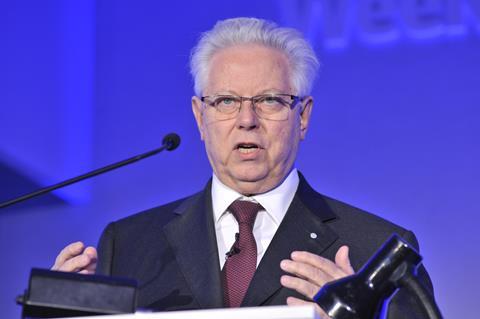 The general election
"If the Conservatives get back in, or a coalition with the Conservatives in it, then it's business as usual. If they don't, the whole thing is on a cliff edge." -Thorntons chairman Paul Wilkinson
"If Labour gets in, they will be on a learning curve." - Next chairman John Barton
"History will show the Lib Dems to have been a good moderator on the Tories." - Morrisons and N Brown chairman Andy Higginson
"A coalition is the most likely outcome. I think it may take longer to form a government and uncertainty will likely lead to postponement of business decision-making." - Moss Bros and White Stuff chairman Debbie Hewitt
"The prospect of a suspended Parliament is scary. In general, uncertainty is bad for business. People wouldn't realise the implications until the first inward investor, for example, decided not to invest and indigenous suppliers announced job cuts as a result. We would then move from a gradual decline in consumer confidence to a sudden drop." - Dunelm and Card Factory chairman Geoff Cooper
"If there is another Conservative government in coalition either with the Lib Dems or UKIP, that would probably mean steady state for the retail sector, albeit in a growing economy. Perversely, a socialist government is more likely to go on a spending spree and stimulate the economy further, rather than continue with Conservative policies." - Home Retail Group chairman John Coombe
"We have had a strong coalition that has got stuff done. A weaker coalition would threaten stability and the ability to govern decisively. The UK has been blessed since the war with strong governments from whichever side – but strong governance." - Asos chairman and Ao.com non-exec director Brian McBride
"A minority government could get in and hold on and survive, but be on the edge. In general terms, business doesn't like uncertainty. There is every chance that the result may be inconclusive and this could be negative for business." - Ted Baker chairman David Bernstein
"I'm not looking for government to stimulate retail, but rather provide a stable macroeconomic, regulatory, and taxation environment where people have confidence in policies the Government are pursuing. High streets remain under pressure from changing shopping habits, especially continuing developments in digital and internet shopping." - Greggs chairman Ian Durant
EU Refernedum
"Coming out of Europe would be a distraction and could put our business development back 20 years. It would impact on the perception of London as one the leading financial centres and we may lose our supremacy as a place for investment." - Debbie Hewitt
"Short term, a departure from the EU may be beneficial, with a stronger pound emerging, but longer term the consequences would be very poor. Europe is our biggest trading partner. It would create political instability for us to be outside Europe. The vision of where our country is would become more uncertain and more American-oriented. We would have more of a Little England situation." - Mothercare and Darty chairman Alan Parker
"The European issue has the potential to be the most disruptive. The UK election should be OK, but the potential of a European shock is greater." - Snow & Rock and Joules chairman Neil McCausland
"The impact of leaving could be quite damaging, maybe not initially, but after a while it would be bad. Ultimately, as in Scotland, the people will be pragmatic and keep the status quo and try and influence from the inside. But at present, I don't think that the UK is using its influence from within as well as it could. The EU, heavily influenced by UK leadership, would be much better run." - Walgreens Boots Alliance executive vice chairman Stefano Pessina
"In general I think coming out of Europe would be bad, but I think we need to assert ourselves. Otherwise we won't achieve the concessions we are looking for." - Ocado chairman Sir Stuart Rose
"I'm much more concerned about the EU referendum than about the next election. It would be terrible to have an extended period of uncertainty where potential investors may be deterred. It's difficult enough selling off a division of a company, let alone separating out a nation." - Neil McCausland
"A referendum would cast a shadow over business expansion and investment decisions. At Ao World, conditions are great for us to expand into Germany and the EU. But if there is a referendum, we would certainly be slowing down our investment until the outcome is clear." - Brian McBride
"If we do have a referendum, it's important it is well informed. There are lots of strongly held views for and against, but there are many questions that haven't yet been asked, let alone answered. For example, if the UK were to leave the EU, would the Government of the day repeal the Social Chapter? Would they abandon the working time directive? People often talk about being freed up from regulation. What regulations and what effect? These are important questions. There are big gaps in the debate right now and they can't just be filled with a lot of opinion." - John Lewis Partnership chairman Sir Charlie Mayfield
"It is no bad thing for the UK to have a proper debate and to rattle the cage to negotiate some sensible free market concessions, such as the removal of red tape around employment. A referendum would give us 18 months of uncertainty, but hopefully there would be some concessions from the EU. Ultimately though, the main benefit would be that the debate would be closed." - DFS chairman Richard Baker
Immigration caps
"There are lots of jobs that British people don't want to do or where we don't have enough people that are qualified to do them - bus drivers, nurses, staff at Pret a Manger. We just don't have enough people to do them." - Sir Stuart Rose
"My family emigrated from Italy in 1956. I believe a restriction on immigration would be very damaging. Our economy is dependent on immigrants and the free transfer of labour, whether they work in Costa Coffee or the City of London." - Pets at Home chairman Tony DeNunzio
"I think it would be bad for the economy. If you go into a Next store, say at Westfield White City or Stratford, you'll find a complete mix of people and nationalities both as staff and just as importantly as customers. I think immigration has helped the British economy." - John Barton
"There is good evidence that people from outside the UK come in and take the jobs that British people don't want." - Majestic Wine and Hobbs chairman Phil Wrigley
"Mainly the immigrants we have are young people, who don't use the NHS, who work and make a real contribution." - McColl's chairman John Coleman
Low pay
"I am concerned about the 'living wage' debate. We already have a minimum wage. If that's not enough, then take action, but don't create a PR story called the 'living wage.' It just creates extra complication, more confusion." - Andy Higginson
"I understand the concerns over the inadequacies of the minimum wage. But we are a retailer, competing in the digital world, employing around 50,000 people, many of whom are on the minimum wage. If the 'living wage' becomes the minimum wage, this will put pressure on margins and thus on our ability to create entry level opportunities with great prospects in our company". - John Coombe
Business rates
"The Government's decision to put in place a structural review of business rates is very encouraging, and opens up the possibility of much needed fundamental reform. We need a business rates system that is fair, equitable, competitive and adaptable across all sectors and businesses.
"Substantial overhaul is very much needed. It could deliver really tangible benefits for government through job creation, reinvigorated high streets and so on." - Sainsbury's chairman David Tyler
"Business rates are too high and penalise people on the high streets and these rates were set at a peak. This needs to be tackled if we want to give retailers a fair crack at it. And it's these retailers who create jobs." - WH Smith and BrightHouse chairman Henry Staunton
"We're being taxed on the basis of bricks-and-mortar rather than how much money we make. This seems irrational. A switch to some form of tax on profits rather than bricks and mortar would be better." - John Coombe
The economic outlook
"I am gently optimistic for retail − it is the best year for the retail industry at a macro-level for five to six years." - Hobbycraft and ITV chairman Archie Norman
"I have never known a year with so many uncertainties … That said, on the whole, the UK consumer is reasonably positive. Notwithstanding, Ted Baker continues to perform extremely well." - David Bernstein
"Customers will be more uncertain than they were last year, because of the speculation that the election will bring. They on balance have more discretionary spend [but] the impact of online and a discount mentality has made the predictability of consumer spend so much harder to read." - Debbie Hewitt
"Customers feel a little better off. They are a little more optimistic, but there is a big geographic divide – and differences within different parts of the north." - Andy Higginson
"We have some interesting trends in retail−the humbling of the big four, the rise of limited range discounters, changes in multi-channel shopping. Consumers might be feeling better, retailers are not feeling better yet." - Thorntons chairman Paul Wilkinson
"The macro economic factors suggest consumers should be feeling good but we are not seeing them suddenly start spending" - Poundland and Maplin chairman Darren Shapland