As the Government launches a consultation on Sunday trading hours, we speak to one of the MPs at the heart of it,communities minister Brandon Lewis.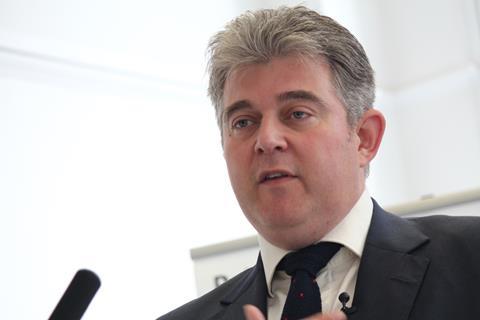 Who is taking the lead in the consultation, is it the Department for Business, Innovation and Skills (BIS) or the Department for Communities and Local Government?
It is a joint thing between us and BIS. Obviously, their side of it is from the commercial retail sector and we're coming at it from the local government side, so it's proper joined up government.
Why is the Government devolving powers? Why not change the rules centrally and allow retailers to decide for themselves?
Because what we recognise is that different places around the country will have different views. It's part of devolving power generally and this is part of that journey of travel – taking more power from Whitehall out to local areas.
I represent Great Yarmouth as a constituency MP and my council leader is quite excited about looking at how he could use this to do more in the tourist season, maybe less in the close season. Other areas might feel they've got issues where their high street is suffering because of out-of-town retail and they might want to look at whether they can zone and help the high street or the market square but not the out-of-town destinations. Other areas may want to leave things as they are.
Rather than a top-down 'this is what you will do', we very much trust local people who are locally accountable to make their own decisions.
So will it purely be the responsibility of local authorities to use their own criteria when deciding which zones benefit from longer trading hours, or will central government provide a framework for them to work from for guidance when making those decisions?
Part of what the consultation is about is making sure we get it right and we devolve power in the right way. If we went down the road of devolution to local authorities, what they do with that power – with the ability to mirror other the days of the week – how far they go with that and whether they use zones or whether they look at certain times of the year is something that would be entirely up to them locally.
On that concept of zones, are they a popular idea? Will local authorities give more power to high streets to open longer on Sundays than they will to retail parks?
We are at the start of the consultation so I wouldn't want to pre-judge that – we'll get a better feel for that through the consultation itself when people feedback. But I will be quite up front about the fact that, when I was high streets minister, many retailers and many town halls around the country told me that one of the challenges for them was giving their high street the chance to compete, not just with online shopping, but with out of town shops.
I could see this being popular to local authorities as a way of balancing that and giving an opportunity to high streets. But we'll have to see what the views are in the consultation.
With that in mind then, do you anticipate a lot of retail parks and out-of-town supermarkets being opposed to the changes as part of the consultation?
No I would think they would be quite positive. What they will be doing is looking to see if longer Sunday opening hours are good for their business. If they are, then they will be lobbying their local authorities and making the case for why it would be good for them.
If you look at somewhere like London, or even Bluewater, where there are tonnes of people and tourists at 10am on a Sunday morning just wondering around with time and money on their hands. That could be spent investing in our economy and creating jobs, but they can't do it because opening hours don't allow it. Most retailers and local authorities will be of the view that they should open earlier to take advantage of that.
How would it work in somewhere like London if we have a joint scenario where metro mayors and local authorities both get given power? Would Boris Johnson then have the ability to overrule what London boroughs have decided?
One of the things we will consider in the consultation is what level we devolve the power to. In areas like London, it could be devolved to the mayor, or it could be devolved to the local authorities.
In the same way, where you have combined authorities in the north of England and hopefully some in the south of England soon, we will look at whether the powers go straight to the combined authority with the elected mayor or to the smaller local authorities.
In places like London where you have both an elected mayor and local authorities, it's about looking at where is the right place to put that power and that's what we want to flesh out in the consultation.
So when an area elects a new mayor or a new council, would they then have the potential to change the laws again?
Yes, but you could say the same for central government. That's the beauty of democracy, that's the way it works at every level.
You do find that as time moves on, people don't tend to go backwards, people move forwards. When I was working in buying to and from retail, everyone shut at lunchtime on a Wednesday. You'd struggle to find any place that shuts on a Wednesday now, that's the same with Saturday.
Things do move on and people tend to move forward to match our lifestyles. Ultimately businesses and local communities will serve the people who live there.
Just finally, question two in the consultation begins with "if power is devolved…" Is there a chance then that after this consultation, powers won't be devolved at all?
A part of the consultation is looking at what the feedback is and seeing what people think about it. This isn't just a consultation for local authorities – this consultation document is open for anybody to respond.
We think this devolving of powers is a good thing to do, we think it's the right way to do it, but we will look at the consultation before we decide if and how we do it and which format we choose to take this forward.