The introduction of the national living wage in April does not appear to have stifled the retail sector – at least not yet.
However the impact is likely to grow, with the minimum £7.20 an hour for over-25s planned to increase in staggered increments. Retailers still need to find long-term sustainable solutions to deliver wage rises.
It was estimated that 2.7million people would directly benefit from the new minimum wage. An additional 3million could be added to this if firms maintained pay differentials so that those higher up the pay spectrum were also awarded increases.
However, the retail sector has a large proportion of workers on or close to the previous minimum wage so it was always going to be one of the hardest hit.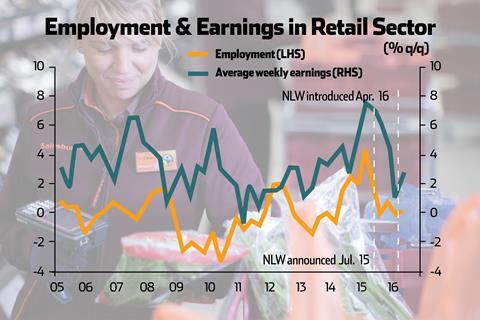 Admittedly early evidence suggests it has not led to widespread job losses but nor has there been a marked pick-up in wage growth.
Defensive steps
This is probably because retailers have taken defensive steps, but measures such as cutting hours, reducing overtime pay rates and removing benefits such as paid breaks and free meals are short-term solutions to a long-term problem. And they could prove detrimental if it saps the morale of the workforce.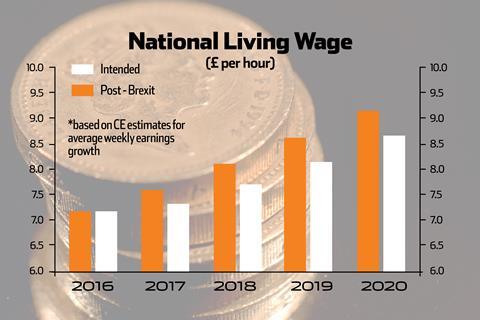 Granted, the Brexit vote is likely to mean that the living wage won't surpass £9 per hour by 2020 as planned. Indeed, on the basis of Capital Economic's forecast for wage growth, a level of about £8.60 looks more likely. But this is still a significant increase, and comes on top of other measures, such as the apprenticeship levy and a rise in import costs following the post-referendum drop in the pound.
Focus on productivity
Once again, raising productivity is key to the solution. This has been an issue for retailers for a number of years, and arguably the Brexit vote and introduction of the national living wage have made it even more important.
There are still a number of issues here. Not least how we go about measuring productivity in a world where the workforce is engaging in a number of different tasks, and more weight is being placed on customer interaction rather than solely on volume or value of sales.
But the increase in labour costs need not be viewed wholly as a headwind, but rather an opportunity for retailers to re-evaluate and re-imagine working practices and ways of doing business in order to get the most out of their staff and to sustainably deliver pay increases in the future.
Paul Hollingsworth is UK economist at Capital Economics