Waitrose boss Mark Price is to leave the grocer and the John Lewis Partnership where he is deputy chairman.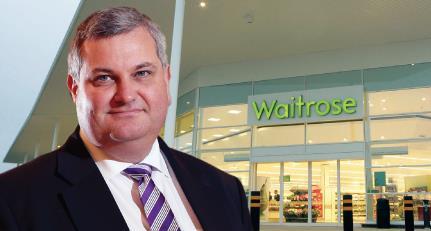 Price, who has been with John Lewis Partnership for 33 years, will leave on April 3 next year.
Rob Collins, Waitrose's retail director, will succeed Price. Collins has worked at the Partnership for 22 years.
Price said: "Leading Waitrose has been amazing and I feel blessed to have been given the opportunity; but I've always had in mind that ten years would be about the right length of time to do this. And so I've concluded that this is the moment to go and do other things in business, consultancy, writing and lecturing.
"In addition to continuing as deputy chairman of Channel 4, when I leave in April I shall be working with a major global firm to do client consultancy in the area of employee engagement and I have accepted several invitations to give guest lectures at business schools and universities. I am also writing a number of books."
He added: "I'm very pleased that Rob Collins will become managing director and I will be working with him to ensure we have a smooth handover at the start of April."
Price's exit will come as a surprise to some. Since being appointed John Lewis Partnership deputy chairman in 2013, he had been tipped as a potential successor to chairman Sir Charlie Mayfield.
New opportunities
Mayfield said: "Mark is pursuing new opportunities, but he will remain a passionate advocate of the Partnership and its ownership model.
"He has had a long and distinguished career with the Partnership and his leadership of Waitrose has seen outstanding success. As a member of the Partnership board for 11 years and deputy chairman since 2013, Mark has played a key role in steering the Partnership and has been a valued and trusted colleague.
"Rob Collins has been a central figure in Waitrose's management team for a number of years and his strong leadership skills and operational success have ensured that he has been a central part of the board's thinking on succession planning for some time. I'm confident that he will make the step-up to the managing director role quickly and effectively."
Collins has also worked for John Lewis where he held a number of senior roles before moving to Waitrose in 2007 to drive its ecommerce business. In 2010 he was appointed personnel director and in early 2012 he was named retail director.
It was revealed last week that Price is poised to become interim chairman of Channel 4 when Lord Burns steps down early next year.