Thorntons chief executive Jonathan Hart is stepping down from the embattled chocolatier after four years heading up the business.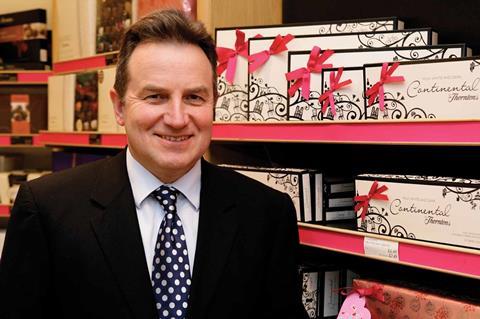 Jonathan Hart is leaving the company after four years as chief executive
Thorntons issued a profit warning in December
Sales and profits have both slumped following grocery price war
A search for Hart's successor has already begun and in the meantime chief operating officer Barry Bloomer will act as interim chief executive.
Thorntons chairman Paul Wilkinson said: "Over the past four years Jonathan has turned around our retail business, as well as creating and delivering the vision and strategy that will serve as the platform for the continued transformation of Thorntons into an international consumer goods business."
Hart will resign his directorship from the end of the current financial year on June 27. Retail Week understands that he does not have a new role lined up.
He is stepping down amid tough times for the chocolatier. It issued a profit warning in December after grocers cut orders and it experienced problems in its new warehouse.
In March it revealed profits had slumped 10% as the supermarket price war took a toll on its business.
Pre-tax profit for the 28 weeks to January 10 fell to £6.5m from £7.2m for the same period in 2014, owing to struggles in the division that supplies the big grocers.
Sales to the grocers and other third-party retailers declined 12.4% to £54.7m.
Problems were compounded last month when Thorntons unveiled a retail sales drop of 5.4% during the third quarter despite "positive" trading in the build-up to Valentine's Day and the Easter weekend.
The chocolatier said retail sales were down to £27.7m for the 15 weeks to April 25, 2015. Like-for-likes were flat having increased just 0.1%.
Thorntons said it delivered "positive like-for-like sales growth" over its "key spring seasons" of Easter and Valentine's Day.
But it blamed the lack of growth on "lower than expected performance" across other weeks in the quarter, including the one leading up to Mothers' Day.