The Oxford Summer School is a once-in-a-career experience, says Tim Danaher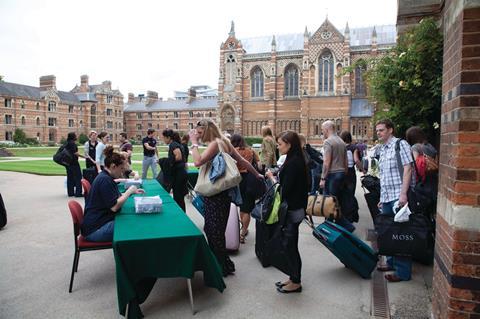 A full week out of the office or store, in one of the most inspiring environments imaginable, is something few in retail can find time for in today's hectic and cutthroat trading environment.
Yet this year, for the 82nd time, over 200 up-and-coming retailers from across the industry did just that at the BSSA Oxford Summer School, at the university's historic Keble College. It's a week of absolute immersion in the business of retailing, and delegates often come away with a completely different view of their profession.
"It's so intense and that's what makes it so enjoyable," says 26-year-old Ben Green, one of this year's delegates. "You're surrounded by such an incredible environment, it just adds up to the most amazing team atmosphere."
The Summer School is a venerable event and many leading figures in retailing have passed through it since it was first held in 1923. The heritage is in department stores – John Lewis has sent delegates since the very first year – but it is now a pan-retail event, with retailers sending their rising stars for the first time this year including 3, Forever 21 and Schuh.
Part of its enduring appeal is that the Summer School's curriculum moves with the times and now includes topics such as digital marketing. At the end of the week the learnings are pulled together in a business exercise to create a new department store concept.
In the evenings, there are guest retail speakers, this year including Fortnum & Mason managing director Beverley Aspinall and Liberty chairman Marco Capello.
Throughout the week, the delegates are divided into groups of eight or nine, headed by a group director from one of the participating companies. White Company head of retail operations Dipti Suchak, attended as a delegate herself in 2005 and has since been back as a group director four times.
She says attending the Summer School was a vital part of her journey from retail assistant to her ops director role.
"Every year my team is different, their interaction with each other is different and therefore my learning is varied," she says.
Oxford Summer School committee chairman Dominic Prendergast, a former retail director of Thorntons and Jessops, explains that over recent years the attendance at the Summer School has shifted towards more experienced retail professionals with an average age this year of 34 – a figure that has risen from 29 five years ago.
"There's a thirst for self-development among these individuals," says Prendergast. "They're clear about where they want to go."
At a time when retail is as challenging as it's ever been, and retailers are looking for more and more efficiency, allowing their stars out of the business for a week to develop their skills might seem like a luxury. But the competition for places at the Summer School and the enthusiasm of retailers for sending their people shows the future is bright for this retail event.
The Summer School Week
Saturday Welcome
Sunday 'Release your potential'
Monday Merchandising Day
Tuesday Finance Day
Wednesday Marketing Day
Thursday and Friday Business exercise