Chief executives from Waitrose, Asda and Shop Direct tell Retail Week about the people and experiences that got them where they are today.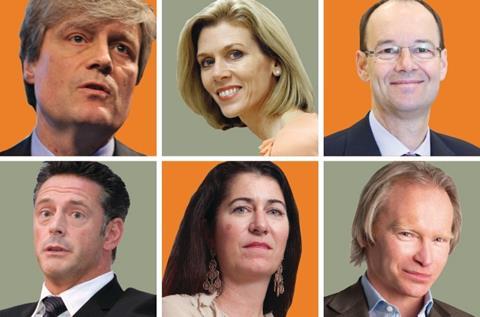 I didn't get where I am today without…
Mike Coupe
Chief executive, Sainsbury's
…The people around me. I've worked on developing the skills for the job and I'm pretty persistent, but gaining the support and endorsement of your team and peers is just as important. And then, frankly, some of it comes down to luck. You need some to get ahead and then you can make some of your own.
Wendy Hallett
Founder, Hallett Retail
…Understanding the importance of people. Hallett Retail has flourished because of the amazing brand owners I work with and the versatility and talent of people I employ. Individuals within retailers have been open-minded, seeing the potential of the concept, and willing to support a smaller business grow and develop. Retail is all about working together for the benefit of all.
David Reiss
Founder & MD, Reiss
…Personal clarity of focus and sense of purpose, staying true to a long term vision.
A very strong work ethic, coupled with personal determination and a will to succeed, adopting a common sense approach and trading instinct, always on the lookout for any opportunities to grow the business.
As a leader being decisive, yet considered in the decision-making process, always keeping the excitement and enthusiasm flowing to drive the business forward.
One has a constant requirement to react to change, as the whole world is moving forwards all the time. Standing still is moving backwards in the retail world!
Craig Inglis
Marketing director, John Lewis
…I wouldn't have got to where I am today without key people I've worked for being prepared to take a risk on me. We are rarely the finished article when the time comes for the next move onwards and upwards so we rely upon leaders who can see a spark and can get beyond where we are rough around the edges. It's been the making of me and it's been my guiding principle in putting my own teams together.
Peter Ruis
Chief executive, Jigsaw
Being a little bit obsessive and slightly geeky with anything the customer 'touched'. Everything always seemed, and seems, to matter so much. The choice of button, the tone of voice online, a new store, the precise execution of the ad. I hated to be second best.
Tanya Lawler
Managing director UK, eBay
Building a great team around me, creating opportunity and breaking down barriers to bring more women into retail. Diversity matters: none of us is as good as all of us, and we need more women shaping the future of shopping.
Simon Arora
Chief executive, B&M Bargains
…Enjoying travel as a young professional or entrepreneur. My brothers and I have always relished visiting new countries, and in the early 1990s our travels across Asia and the Americas gave us the springboard for our business success today. Our view is that the more you travel overseas, the more you will learn.
Paul Kelly
Managing director, Selfridges Group
…It's not easy to find the key ingredients to a successful career. For me, it was about applying my drive and passion alongside a commitment to hard work and with the best people. In my view, that will set you on the road to success. Combine this with finding a job you love and having great owners or leaders who inspire you and it will never feel like you are going to work.
Catriona Marshall
…Competitive running. It builds mental strength and forces me to keep my body and mind in good shape with a healthy diet and regular training. It requires organisation and discipline to fit both work and running into busy days and helps me sleep well at night. Racing requires ambition, strategy, planning, effort and a high pain threshold – all relevant to a good day's work in retail.
Andy Randall
Managing director, Autocentres, Halfords
…Realising that whatever the industry we are in and whatever our personal skills, success only comes if we can get the best out of the people we work with and, therefore, ourselves. Listen to people who are good at what they do and share information with others to get their support in delivering a strategy or project – success is all about people.
Colin Henry
Chief executive, Jaeger
…Knowing that I am only as strong as the team around me. I have relied on them to excuse my enthusiasm and often unorthodox approach to dealing with challenges. The concept of maintaining the status quo is anathema to me.
I have always derived strength from the love of those who matter most and, recently, Woolfie, our Jack Russell (pictured below).
Mark Price
Managing director, Waitrose and deputy chairman, the John Lewis Partnership
…My parents gave me three great gifts: a set of values that made it likely that I would be attracted to work for the John Lewis Partnership; a positive outlook on life; and, one of the most valuable assets you can have in a retail career – good memory for detail. My good fortune is to have a wonderful wife, two fabulous daughters and people around me who every day inspire me to work hard and do the best I possibly can for them and for the business we jointly own.
Geoff Quinn
Chief executive, TM Lewin
…The people I have around me. Throughout my career in retail I have always looked at people whom I consider to be good role models. I have then tried to copy their good points, even down to the way they talk to people.
This has helped me to subsequently communicate with and lead a team of great people who can all do things for the business far better than I could ever hope to. Good businesses need good people who can work well together.
Peter Harrison
Chief executive, Furniture Village
… Appreciating the importance of people. I started my retail life in Whiteley's in Queensway, London, when I was 19, having been attracted by a recruitment ad saying "Join UDS and see the world!". After two years they sent me to Arding & Hobbs in Clapham Junction. Having worked my way through the ranks with the guidance of some incredible people, I eventually became number two to Tim Daniels, the managing director. He was special.
Andy Clarke
Chief executive, Asda
… Dennis Leaver. He was the store manager during my first retail job at a Fine Fare store – he spotted my potential and became a mentor to me when perhaps others wouldn't have taken the time. This early experience in my career is why I place such importance on recognising and developing talent. I believe passionately that a career in retail can take you anywhere you want it to.
Steven Cohen
Chief executive, Blue Inc
… A 'can do' approach. Young fashion retail is a tough space and one needs resilience and perseverance to build a brand on a sustainable and long-term basis. I've kept a clear focus on our target market and differentiated customer and prefer a listening approach to feedback, especially on the shop floor from staff and customers. A sense of humour and good support at home are also essential, particularly in the Christmas run-up.
Sue Dover
Marketing director, Boux Avenue
… High heels; waking up at 5am each day, welcoming the day and preparing myself mentally for the challenges to come; coffee; always questioning myself with 'what else can I do to make this bigger, better, more profitable'; Diet Coke and spellcheck; being true to myself; non-crease clothes (I wish); letting my team run but not fall over; having fun; being proud every single day of the job I do and the people I influence.
Alex Gourlay
President and director of customer experience and wellbeing, Walgreens
… I started my career on the shop floor, looking after customers and ensuring a positive experience – caring for and putting them first. I learned the basics of successful retailing from people on the frontline. I loved this period. It provided me with a solid understanding of how to run and improve the customer experience and build trusted working relationships with my colleagues. I refer to these lessons learned each day as I try to make the right decisions in my leadership role.
Jacqueline Gold
… Over 30 years ago while on work experience at Ann Summers, I attended a Tupperware party and heard women talking about how they hated not being able to buy sexy underwear and sex toys. I spotted an opportunity that I knew was too good to miss – for Ann Summers to give these women what they wanted in a safe, female-friendly environment. Knowing there was a want for these products gave me the confidence to pitch my party plan idea to the board. Today, listening to our customer is as important as ever, and I know that without listening I wouldn't have got to where I am today.
Angus Thirlwell
… Learning the importance of balance. On the one hand we strive to innovate, to take risks, develop and progress as a brand. We have broken rules and created market-shaping concepts. In opposition to this creativity is a necessity to constantly refine and simplify ourselves, reducing complexity as we surge on. The risk of being overwhelmed with too much noise and too many divergent interests needs to be energetically dealt with. Maintaining this equilibrium has enabled us to proudly reach our 10-year birthday. Of course, it also helps that we are all powered by potent cocoa flavanols.
Leo McKee
Chief executive, BrightHouse
… My summer jobs as a 16 year-old in Glasgow. I had two – during the day in a prestigious department store and evenings in an East End boozer. Lewis's and the Rob Roy couldn't have been more different but the energy and buzz of both is what lead me directly to a lifetime in retail. Learning life lessons around preparation, training, communications and service were important but, most of all, I experienced the excitement and satisfaction there was to be gained by delighting customers. That autumn I returned to school exhausted, yet certain I'd found my career.
Mike Logue
Chief executive, Dreams
… The fantastic people I have worked with in several world-class companies. The leadership and training at M&S in the late 1980s and early 1990s were outstanding and set me on my way in retail. The pursuit of customer excellence learnt at Asda and the pace of constant improvements when building Phones 4U and Gamestation were challenging and great fun. My personal determination to succeed (or, should I say, not fail) has always been present. But most of all, without the support and patience of my family none of it would have been worthwhile.
Jon Rudoe
Digital and technology director, Sainsbury's
… Great mentors. Steve Kaufman (a brilliant former chief executive who taught me at Harvard) helped shape how I manage my time. He also taught me that it's about what you solve for
the customer, not what you do.
Mike Shearwood
… The gift of opportunity (otherwise known as Lady Luck). Being willing to embrace it, tackle it head on, always believing that 'there is a way' and enlisting the help of others, who are often better suited to or qualified for the job, to help achieve the objective.
Jonathan Hart
Chief executive, Thorntons
… The unswerving support of former Dixons' chief executive John Clare (pictured below); from the phone call to encourage me to join Dixons as a product manager, to giving me my big break into operational and then general management, culminating in my role as managing director. It demonstrates the importance of a good mentor, who challenges and believes in you.
Matthew Dashper-Hughes
Chief operating officer, Ryman
… Listening; recognising common sense when I hear it; surrounding myself with good people (and letting them do their jobs); knowing the difference between a mitigated risk and a foolish risk; enjoying selling; being restless and impatient; embracing change; liking people; thinking hard (and working harder); having fun.
Alex Baldock
Group chief executive, Shop Direct
… Great teachers. I've been particularly lucky in having Geoff Cullinan (Bain) and James Quincey (now Coca-Cola) on problem-solving and critical thinking; and Manfred Kets de Vries (Insead), Bill George (Harvard) and Jim McNeish on leadership. You don't have to meet people to learn from them. Field Marshall Bill Slim still has a lot to teach on humility and resilience, and Defeat Into Victory is my favourite leadership book by a mile.
Annabel Astor
Chief executive, OKA
… From when I set up Annabel Jones Jewellery when I was 18 years old through to OKA today, my inspiration has always been my grandmother, Enid Bagnold (pictured below), who worked her whole life and instilled the same drive and desire to succeed in me. Furniture and decorating have always been part of my life – my mother had extraordinary decorating skills, which were not only way ahead of her time but also a huge inspiration.
Beth Butterwick
Chief executive, Bonmarché
I didn't get where I am today without passion. With a passion for fashion, it was a dream come true to join Marks & Spencer, where I was fortunate enough to develop a diversity of products for a broad range of consumers. Soon I discovered a passion for customers; giving people what they want and seeing their delight is extremely satisfying. A career in retail enables you to live your passion for people and values too. I feel very privileged to have worked among a variety of cultures, having worked at both Gap and MS Mode.
Tony Brown
Chief operating officer, 99p Stores
… Having had unending tenacity and a real drive to succeed. I've been fortunate to work with some retail greats including Sir Phillip Green, Allan Leighton, George Davies and Keith Edelman, but you need to absorb and learn from those people.
Helen Buck
Business development director, Sainsbury's
… Grabbing every opportunity with enthusiasm and learning to adapt. At Sainsbury's I've had opportunities to do different roles and I've loved them all.
Bea Pearson
Chief operating officer, Robert Dyas
… Realising the power of operating and approaching your role today as though you already have the job you aspire to tomorrow. Set one career goal a year and focus on delivering it.
Ian Cheshire
… Using the power of great diverse teams and by resisting the temptation to think I must always be right. God gave you two ears and one mouth and they should be used in that ratio.