Despite the tough climate, the industry showed that it is producing talented retailers with the skills to reach the very top of the industry at the Rising Star Awards last week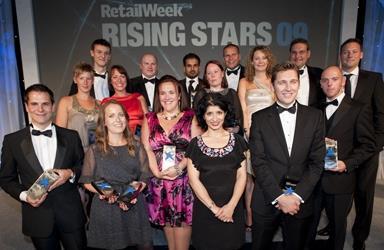 Buyer/merchandiser of the year in association with ABC Awards
Winner Campbell Ettinger, buyer, B&Q

Ettinger demonstrated acute commercial awareness, as well as focus and determination in improving all areas of the customer proposition.
Highly commended Amy Whittard, senior buyer, Disney Store
Whittard showed considerable initiative and has made herself a flag bearer for Disney's UK division.
Online individual/team of the year
Winner Jenna Anians, new business development manager, Mydeco.com
Showing real entrepreneurial skills, Anians was the standout candidate who has applied herself to a fledgling online retailer to achieve great results.
Highly commended Christina Acklam, marketing manager, Figleaves.com
Acklam showed her willingness to take on challenges and try her hand at any part of the business.
Store support manager of the year in association with Edexcel
Winner Iona Blake, team manager, senior customer managers, Boots
Blake proved herself to be an operational bedrock who can run a storewith impressive efficiency.
Highly commended Helen Tully, operations manager, Debenhams
Tully impressed the judges with her dedication and understanding of both processes and people.
Area manager of the year
Winner Gail Barker, regional operations manager, Comet
Barker has taken risks and overcome sceptical peers to take her region from 20th to third within the company.
Highly commended Barrie Thompson, regional manager, Carphone Warehouse
Thompson created a performance management model for branch managers that has been adopted as standard across the whole company.
Marketing professional of the year
Winner Oliver Lucas, brand planning and insight senior manager, New Look`
The judges praised Lucas' professional and novel approach to marketing, and his persuasive power that marked him out as a retail leader of the future.
Highly commended Kerry Nicholls, head of brand, Pets at Home
Nicholls impressed with her instinctive grasp of what is required to keep a store running smoothly.
Head office support team/individual of the year
Winner New store opening recruitment and training team, Iceland
Presented with the challenge of recruiting, training and developing staff for Iceland's biggest expansion programme, the team passed with flying colours.
Their strong relationship with the operators in regions and stores, and ability to reduce the complexity of the process, won the admiration of the judges.
Store manager of the year: north of england in association with EDI
Winner Ian Trotter, Iceland
The judges said Trotter "has the ability to get to the top", and were impressed by his rapid career progression and mature attitude.
Highly commended Jamie Lawson, Signet
The judges said Lawson was "passionate about his vision and principles", which have enabled him to transform the performance of his store.
Store manager of the year: midlands, wales & southwest in association with EDI
Winner Tylan Berry, H Samuel
Berry proved to the judges that he has a strong grasp of what it takes and outperformed the market hugely.
Highly commended Micah Buffrey, BrightHouse Buffrey's sheer determination and seemingly endless energy left the judges inspired.
Skillsmart retail apprentice of the year in association with EDI Skillsmart
Winner Michael Scott, Stead & Simpson
After leaving college with "no real direction", Scott has shown a great understanding of retail. The judges deemed him an inspiration, with "energy" and retail nous.
Highly commended Kerry Batey, Nike Retail
Batey impressed with her dedication and hard work since finishing her retail apprenticeship.
Supply chain professional/team of the year
Winner Zoe Abel, direct imports manager, Pets at Home
Abel's commercial awareness and people skills singled her out as this category winner.
Highly commended Simon Stokoe, convenience supply chain manager, Sainsbury's
Stokoe demonstrated his tenacity and successful implementation of a process change in his team.
HR/training professional of the year in association with City and Guilds
Winner Becky Woodward, learning and development adviser, B&Q
The judges singled out Woodward for her genuine customer insight and innovative thinking.
Highly commended Laura Milford, HR assistant, Figleaves.com
The judges said Milford showed gut instinct and is a star of the future.
Store manager of the year: Scotland & Ireland in association with EDI
Winner Mark Howard, B&Q
The judges felt that Howard has all the strong leadership skills needed in a store manager to drive his team to continually improve store standards. They also felt he proved himself to be a natural merchant who knew instinctively what customers wanted.
They decided that this, coupled with his unbridled enthusiasm, makes him a retail leader of the future.
Store manager of the year: southeast & east anglia in association with EDI
Winner Haroon Naseem, Carphone Warehouse
Naseem won this category because of the way in which he has gained the respect of his colleagues, showed initiative when tackling challenges and achieved great results. His love for the company came across very strongly, as did his dedication to the job.
Overall winner
Jenna Anians, new business development manager, Mydeco.com
The retail sector is full of successful entrepreneurs who have built highly successful businesses up from scratch. The judges felt that Anians showed exceptional entrepreneurial talent that is not only proving invaluable in her present role, but will also drive her on to become one of the retail names to watch.