Retail Week's list of the top 100 richest retailers has uncovered record wealth, a surprisingly high proportion of new entries and a new number one.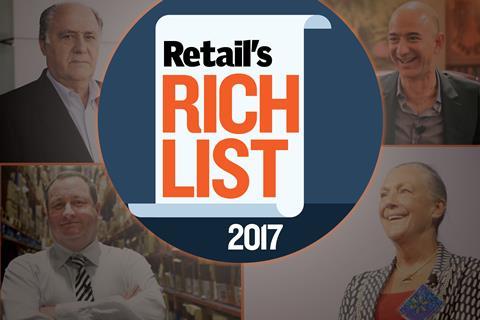 Retail Week's annual look at the fortunes of the retail industry's most successful entrepreneurs and business leaders has found wealth of nearly £818bn – up by a third in just one year.
£818bn

The combined wealth of all 100 Rich List retailers, up by a third in just one year.
Just to gain entry into this gilded elite you would have needed to have identifiable wealth of more than £2.1bn.
Our list also showcases an array of new entries – many from the world's emerging economies, such as the founder of Chinese furniture chain Red Star Macalline, Che Jianxing, and Helian Home chair, Zhuo Jianping. They are just two of 21 new entries this year.
But that is not to say all have enhanced their wealth amid the turbulent geopolitics of the past year.
Sir Philip Green and Mike Ashley, two larger-than-life characters who have become powerful players on Britain's high street, have both had bruising years.
£2m a day

The amount by which the combined wealth of Sir Philip Green and Mike Ashley has fallen this year.
The pair's combined fortunes have plummeted by £700m over the past year – that's a loss of almost £2m a day.
More than a third of the 100 are from the world of supermarkets and convenience stores.
We list 26 fashion retailers, including some of the industry's most glamorous names such as Ralph Lauren and Giorgio Armani. There are 11 online retailers, seven DIY entrepreneurs and three shoe retailers.
Humble beginnings
However, the most striking aspect of this collection is how many of these people made their fortunes themselves – often coming from the humblest of backgrounds.
Francois Pinault, who owns the luxury brands Gucci and Yves Saint Laurent, started his career at his father's lumber mill.
Amancio Ortega, who left school at 14, was the son of a railway worker and a housemaid.
The Indian entrepreneur Radhakishan Damani was raised in a one-room Mumbai flat.
Inspiring stories
Indeed, 69 of our 100 retailers made their own money – only 31 inherited their money or businesses.
That is a far higher proportion of self-made wealth than almost any other Rich List from any other sector.
And it's probably even just as inspiring that many of these people endured failure along the path to success. Alibaba founder and executive chair Jack Ma – now worth almost £30bn – was once turned down for a job at KFC.
Nike founder Phil Knight was dropped by two banks when starting out. Bernard Marcus and Arthur Blank only founded their US DIY giant The Home Depot after they were fired in middle age.
Such stories may inspire many working in today's highly competitive, global retail environment, and perhaps even make a few dream about joining the ranks of our top 100 next year.
Read the full list
See who makes our list this year, read individual profiles and compare this year's list against previous rankings.