The tills are still jangling merrily for the world's top retailers. But who has the most? Find out in Retail Week's top 100 richest retailers.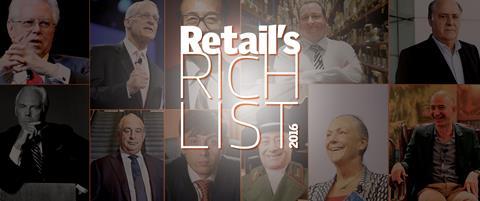 In the second Retail Week global rich list of the top 100 retail tycoons, their total wealth has risen a handy 5.5% to a gargantuan sum of £608bn.
£608bn

The combined wealth of all 100 rich list retailers
By comparison, the UK government's total tax take in 2016/17 is expected to be just £548bn. No wonder then that retail remains one of the smartest ways to make a fortune, provided of course the right path has been taken. And no one has taken a better path than our number one and two in the list this year. Over the last year, our continuing number one, Amancio Ortega, has seen his fortune jump nearly 25% to £48.4bn.
It was 42 years ago that Ortega opened his first Zara fashion shop in La Coruna. Today at 80 he may have retired from day-to-day control of parent business Inditex, but it is now the world's biggest clothes retailer with annual sales approaching $21bn.
The biggest riser
But the biggest riser – inevitably – is Jeff Bezos, founder of etailer Amazon. Its stupendous growth and reach has pushed Amazon's share price up by 70% in the past year.
Bezos cashed in one million shares for around £460m. But he still owns 17% of Amazon – a holding worth at least £39bn. In all, his £43.4bn fortune is up 146% in the last year.
The rise of Bezos shows just how comprehensively American retailers and etailers dominate our list.
The 29 billionaires (and all 100 are sterling billionaires worth £1.25bn or more) who are US based are now worth £206bn of our total £608bn.
The UK follows with 14 and Germany is third with 11. But both are far behind the US in financial firepower. The UK billionaires are worth just £36bn while the Germans are more prosperous, worth in total £71.2bn.
Ortega is not alone as a billionaire fashion retailer. Some 25 of our 100 are in fashion, clothing or footwear retailing of one sort or another, up one on last year.
But supermarket and convenience store magnates still outnumber them with 32 in our top 100 this year, down on last year.
We split the Walton family fortune between the various members who have their own distinctive stakes in the giant American supermarket chain Walmart. Together as a family, they would easily be the richest in the world with a £66bn fortune.
The power of the internet
The power of the internet is also evident in our top 100. There are nine ecommerce billionaires in the list, the same as last year, which neatly matched the number of the department store billionaires.
There is also a rise in the number of self-made retail magnates from 70 to 72 this year. They also have over 62% of the wealth with £377bn between them.
As a footnote, for those who follow horoscopes and, as we observed last year, it helps to be a Libra, Virgo or Scorpio to make money in retail – there are 12, nine and eight of those star signs respectively in the top 100.
But women's representation in the top 100 is still too low. Indeed this year we are down one at 12 women – either on their own or as part of a husband-and-wife team.
Want stories like this in your inbox?
Sign up to the Retail Week daily emails and get the biggest retail headlines each morning. Manage your newsletter preferences here: retail-week.com/newsletters