Ecommerce giant eBay swaps the web for water as it turns 20 and Morrisons finance boss Trevor Strain borrows a line from Sir Bruce Forsyth.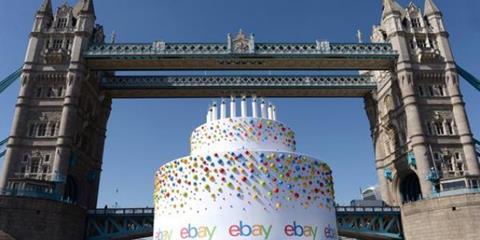 EBay takes to the Thames with birthday cake stunt
Ecommerce giant eBay made waves after swapping the World Wide Web for water as part of its 20th birthday celebrations. The online titan took to the River Thames to ferry a giant birthday cake through London to mark the milestone. EBay has been celebrating the landmark with a month-long series of events, which saw the six metre tall cake set sail in Stratford for a round trip along the famous river, before lighting up the night sky with its 20 candles. Sadly the cake was inedible, but the PR stunt would certainly have given its rivals plenty of food for thought.
Morrisons finance chief plays his cards right
Morrisons finance boss Trevor Strain took inspiration from Sir Bruce Forsyth last week, when he was quizzed about the impact of the living wage at the analysts' meeting on results day. One of the number crunchers was keen to get a figure of the cost and hazarded a guess. Strain told him that he wasn't on the mark and dismissed further attempts to pin him down on whether it was higher or lower. "This isn't Play Your Cards Right," quipped Strain, Brucie-style. When higher profits make a return at Morrisons, it will no doubt prompt a "nice to see you, to see you nice".
Ornella Barra named among most powerful women in business
Walgreens Boots Alliance president and chief executive Ornella Barra has proved her influence extends beyond the retailer after she was named as one of Fortune Magazine's Most Powerful Women in Business. Barra placed fifth in the 2015 list, climbing three places from last year's eighth-place showing. It marks the fourth consecutive year that the University of Genoa pharmacy graduate has made the list, following the expansion of her responsibilities in January 2015 after the creation of Walgreens Boots Alliance. She spearheaded the integration project, leads both the pharmaceutical business and international retail, while also supervising global communications. Barra's Boots were clearly made for walking.