After a career that has taken in a bitterly fought attempt to save high street giant Woolworths and physical threats from Russian heavyweights, Tony Page will be looking forward to a more normal working life at value retailer The Original Factory Shop.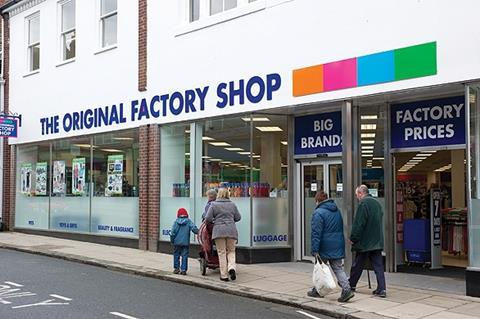 After two years away from the retail limelight, Page returns full-time to the sector next week as the store group's new chief executive.
Page knows Original Factory Shop's outgoing boss Angela Spindler from his time at Asda, where he spent 12 years and was latterly executive commercial director of general merchandise.
"I learnt a lot from my Asda days in terms of management," says Page. "I learnt about coaching and listening to people and to set aspirational and challenging targets. This was different to other roles I had been where it would be more 'you say, we do'."
Later on in his career he would draw on his grocery experience, although under far difference circumstances, when he took up the role of interim executive commercial director at Russian supermarket Lenta. Amid a battle for control of the business, Page was physically threatened and had to leave the country for six weeks.
"But I vowed to go back and see it through," he says.
Page returned to Russia, this time without his family, to see the process through, after which he opted to return to the UK, where in February 2011 he was hired to head up Lloydspharmacy. However, he departed the retailer after a year.
Despite his recent low profile, Page is well known in the sector for desperately trying to rescue Woolworths, where he was managing director for commercial and marketing when it collapsed into administration in 2008.
Along with so many other potential white knights who were vying to save the business, Page's plan to save Woolies failed.
Page joined Woolworths in 2006 to develop product and supply chain capabilities to help the already-struggling retailer to better compete against supermarkets that were encroaching on its non-food territory.
As part of its turnaround strategy, Page helped create the Worth It brand, which returned the retailer to its value roots. But the new range was not enough to save the retailer and Page found himself leading negotiations with potential investors in an eleventh hour bid to save up to 125 Woolworths shops on Christmas Eve, after administrators Deloitte gave January 5, 2009 as the store closure deadline. But hopes were dashed and store closures went ahead, resulting in 27,000 jobs losses.
In another blow, Page was outbid for the Woolworths brand by online retailer Shop Direct.
The Woolworths saga took its toll and Page was severely financially impacted and lost his family home.
However, Page soon bounced back and can now put his energy and passion for value retailing into a financially secure business when he takes the helm at Duke Street Capital-owned The Original Factory Shop.
Page says: "When I was at Woolies I started to get really passionate about value and general merchandising in retailing but also about the community aspect.
"When I tried to start a new version of Woolies I was deeply embedded in the value sector and spent my time trying to raise money or going around my competitors and The Original Factory Shop was one of them."
Page says in a small rest last year he "took up a new hobby each week" which were just as varied as his CV, switching from an art course at Chelsea college to water skiing and a triathlon.
After such an eventful few years, he says he is ready to "put some roots down" with his wife and two young children as he prepares to turn a new page in his career.
CV
2012 – June 2013, interim director/consultant, Wiggle
2011 – 2012, managing director, Lloydspharmacy
2010 -2011 interim executive commercial director, Lenta
2006-2009 commercial and marketing director, Woolworths
1994-2006 executive commercial director general merchandise (plus various previous roles), Asda Walmart
1988-1994 senior buyer of fresh produce, J Sainsbury plc