Ask most people what is the UK's largest retail network and I wager not many would know that, with more than 11,500 outlets, it's the Post Office.
The recently completed modernisation programme added more than 200,000 opening hours a week, which makes the Post Office the largest Sunday retailer in the UK as well.
The first 24/7 branch opened on Oxford Street in London earlier this year, and in June the Post Office announced its intention to acquire the bill payments business Payzone, subject to CMA approval.
Any question about how serious the Post Office is about delivering on its ambitions, a trio of exciting appointments this week should dispel any doubts.
The hiring of retail sales director Amanda Jones, retail HR director Lisa Cherry and retail chief information officer Liz Robson is quite a statement of intent; high calibre, experienced leaders who between them have worked for some of the UK's biggest retail brands.
Jones's appointment, in particular, is eye-catching. She is a well-regarded figure who has worked in retail for more than 27 years, including senior roles at both Marks & Spencer and Waitrose.
Her experience of franchise models as chief operating officer at Bargain Booze owner Conviviality, and before that at Nisa, is especially relevant to the Post Office, many branches of which are run by retail partners such as WHSmith, Co-op and McColl's.
Cherry joins from Wyevale Garden Centres where she was HR director; she also boasts relevant experience as head of HR at WHSmith for the travel head office and international businesses.
Robson, meanwhile, was most recently chief information officer at Halfords and has held senior IT roles at Shop Direct, Homebase and Siemens Telecoms.
Community services with retail edge
Although the public may not yet perceive it to be a large retail business, the Post Office has a lot of things in its favour, such as outstanding brand recognition and huge footfall going through its branches each week. It is also positioned at the heart of communities – 99.7% of the population are situated within three miles of a branch.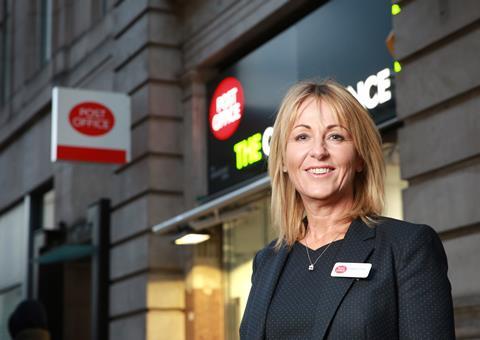 The ability of retail chief executive Debbie Smith (pictured) to attract the likes of Jones, Cherry and Robson is not only testament to their belief in the Post Office's ambitions, it also points to the appeal of its unique position as a commercial business with a social purpose.
The sense of being able to give something back to local communities, where the services it provides are so highly valued, will I'm certain have been a motivating factor for prospective candidates.
The appointments also go against the grain of what we are seeing from executive recruitment in general, where the large majority of retail moves tend to be associated with 'clicks' rather than 'bricks'.
Many seasoned retail executives will take some comfort in the news that core, conventional retailing skills are still seen as key to the future success of high street retailing, on which the Post Office is clearly placing its bets.
Community will remain at the heart of the Post Office, but with these new appointments I expect the business to gain a greater commercial edge that should benefit customers and make competitors look over their shoulders.
Content provided by Anthony Gregg Partnership.

You can call Tony Gregg on 01564 796830 or email him at tony@anthonygregg.com.
Founded in 2003 and located in Henley-in-Arden and London, The Anthony Gregg Partnership specialises in the consumer search market space.