Ewan Venters, chief executive at Fortnum & Mason, speaks to Retail Week about his life working in retail.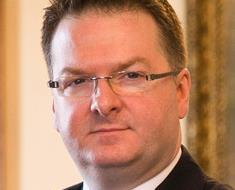 What was your first job in retailing?
I started my own bakery at the tender age of 11, inspired by my grandmother who had a huge passion for cooking
and baking.
Which retail company do you admire most and why?
I know it's obvious to say Fortnum & Mason, but to have survived and prospered for more than 300 years is quite something.
What is the trait you least like in yourself?
I sometimes push myself too hard and expect the same of others - sometimes that's just not possible.
Who have you learnt most from in your retail career?
The former deputy chairman of Sainsbury's, Tom Vyner. I was his PA at the age of 23 and he really influenced my knowledge and style.
What advice would you give someone starting out in retail?
Always strive for perfection, but accept you will rarely achieve it.
What keeps you awake at night?
Cheap wine.
What's the most satisfying part of your job?
I love seeing the journey food makes from farm to store and I love seeing our customers enjoy the food and drink in
our restaurants. We've just made the first batch of 'Made in Piccadilly' strawberry jam from British strawberries.
What's your proudest achievement?
My appointment at Fortnum is a tremendous privilege. With that privilege comes responsibility.
What job would you have done if you hadn't become a retailer?
A chef. I'm a huge foodie and I love entertaining.
What's your favourite shop and why?
I remain a huge fan of Selfridges for its energy, fashion and creativity. On a smaller scale, G Lorenzi in Milan is spectacular for its fabulous kitchen knives and pepper mills.
What was your last purchase?
A beautiful Tom Ford coat.