Sports Direct boss Mike Ashley has urged MPs to "take the bull by the horns" to save British high streets from "a downward death spiral".
Ashley issued the stark warning to members of the housing, communities and local government committee as part of a session exploring what UK high streets and town centres would look like in 2030.
The billionaire tycoon issued a host of recommendations to MPs, imploring them to "immediately tax the internet" in order to give high streets "a massive electric shock".
During a session that lasted almost 90 minutes, Ashley proposed:
an online sales tax on retailers who make more than 20% of their revenues through ecommerce;
free business rates for five years on the condition that retailers invest every pound saved on that store back into that location;
free parking in town centres and high streets across the UK; and
driving shoppers back into shops by pushing click and collect and incentivising them by offering vouchers that can only be spent in stores.
In an occasionally heated exchange that opened with a series of questions relating to his acquisition of House of Fraser and Sports Direct's use of zero-hours contracts, Ashley was eventually asked about his vision for the high street of 2030.
"It's not my fault the high street is dying," Ashley told MPs. "It's not House of Fraser's fault, it's not Marks & Spencer's fault, it's not Debenhams' fault the high street is dying. It's very simple why the high street is dying – and we all know the answer, but we have to say it – it's the internet. The internet is killing the high street."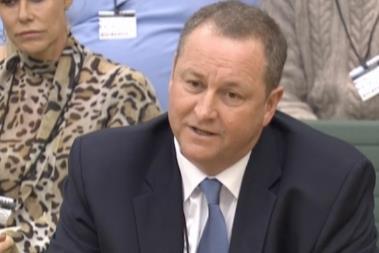 He added: "The question is what to do about it. If you want to save the high street, you have to address that problem. It's as simple as that."
Ashley suggested the "mainstream high streets are already dead [and] can't survive".
He said that constituted "the majority" of shopping thoroughfares in the UK but the government could help save "the minority".
Ashley proposed the introduction of a "massive electric shock" to high streets in the form of a new sales tax, which would come into effect on retailers making more than 20% of their sales online.
"You have to immediately tax the internet," Ashley said. "I don't mean just the pureplay internet – that's why I say the Sports Direct group will not thank me for this. You have to tax the internet for the good of the high street, the good of them all.
"If you turned around and said, as a minimum, we will tax the web boys 20%. That will affect me massively – that's a big bill. But think about what would be fair and think about what you want to achieve – you want to save the high street."
He added: "What happens if more than 20% of your sales are on the web? You've got to pay the 20% tax.
"People say, currently, the web is 20% [of retail sales] and it's going to go to 40%… If I'm a retailer and I'm the SDI group, I will make sure not to pay the 20% tax by keeping 80% of my revenues going through the high street."
Ashley added that councils should be "empowered" to offer retailers "free rates for five years" on the condition that retailers "matched every pound of free rates with a pound of investment that has to just go in that site".
Ashley also called for landlords to slash "prehistoric rents" by as much as 25% but admitted MPs "can't really regulate what a landlord is able to charge people in rent".
However, he urged them to act "now" on the issue of an online tax and warned: "Unless you do something really radical and grab the bull by the horns, [the high street] won't be there.
"You can't put in a watered down version, because a watered down version won't work."
Revo chief executive Ed Cooke said: "It is hard to disagree with Mike Ashley's comments that a massive electric shock is needed to revive high streets that are flatlining.
"We are campaigning for the introduction of a fairer tax system, including some form of online sales tax, that recognises the changing role of online and physical retail and encourages investment back into stores. It remains to be seen if the model proposed today would work.
"Today's evidence session underlined that collaboration – by all stakeholders – is key to saving the high street, and to that end we will be inviting Mike to attend our inaugural CEO Summit next Spring to debate these issues further."