Majestic Wine's new managing director John Colley has his work cut out as competition in the wine market is set to become even more intense.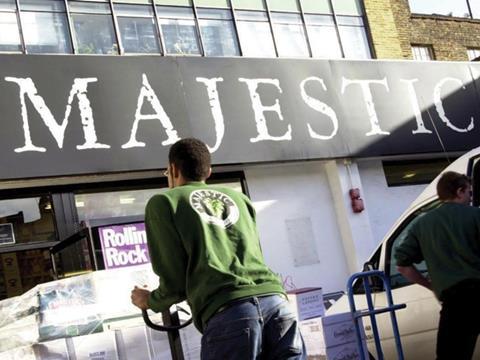 Colley will take up the newly-created position on October 1, just three days after Aldi revealed it would start to sell wine online from next year.
Majestic Wine's online sales have disappointed and in order to accelerate its ecommerce operation the retailer revealed in April it was acquiring online rival Naked Wines and appointing the latter's founder Rowan Gormley as chief executive.
Colley will report to Gormley as head of Majestic's core business and will work alongside separate managing directors of the group's other businesses, Majestic Commercial, Naked Wines and Lay and Wheeler.
Justin Linger, director at headhunters Barracuda Search, believes Colley will be able to bring his 20 years of senior retail experience to bear on the tough task ahead for Majestic Wine.
Career history
Colley began his career as an assistant stationery buyer for Woolworths and since then has worked his way up the ranks to gain experience across multichannel retail formats.
Between 2004 and 2008 Colley was commercial director at Screwfix, a position where he proved his mettle.
"He worked at Screwfix when it was embryonic and helped build it from an online perspective, driving customer service and engaging the troops within the business to deliver that," says Linger.
Since Colley helped set the foundations at Screwfix the retailer has gone from strength to strength.
Kingfisher revealed that in the six months to August 1 like-for-likes at Screwfix rocketed 16.5% and revenues climbed 27.9% to £494m.
His ability to differentiate retailers, as proved by his time at Screwfix, will prove a powerful tool in competing against the impending fiercer competition.
Braced for competition
"Will he be able to deal with Aldi's entry into ecommerce?" says Linger. "He will differentiate Majestic Wine or ensure it delivers what the customer is looking for which will create the USP in the marketplace."
"He is incredibly commercial and a very fast-paced and dynamic individual. He has both the balance of being strategic and getting stuff done"

Justin Linger, Barracuda Search
Colley is also no stranger to the challenge of an ultra-competitive market and developed such endurance in the "incredibly tough" Dutch DIY marketplace. His job will be made even harder by Conviviality Retail's £200m acquisition of Matthew Clark.
Colley was chief executive at Dutch DIY firm Praxis for two years up until February 2015 and before that was commercial director at fellow DIY retailer Maxeda for two and a half years.
"He has worked in a very demanding private equity background and has also dealt with a very demanding macroeconomic environment in Holland," says Linger. "He has had complex, difficult jobs and he is very committed to his work."
Both Linger and acquaintances on Twitter describe the married father of two as a "good guy". In his downtime he is known to enjoy taking part in amateur cycling races.
While at university he studied mathematics, statistics and computing, a degree well-suited to the commercially minded Colley.
"He is incredibly commercial and a very fast paced and dynamic individual," concludes Linger. "He has both the balance of being strategic and getting stuff done."
All these qualities will be needed by Colley when he is called upon to face the looming demands in the wine market.