The founder of Iceland says the past 18 months have been his most challenging at the retailer, but he believes he has found a way forward.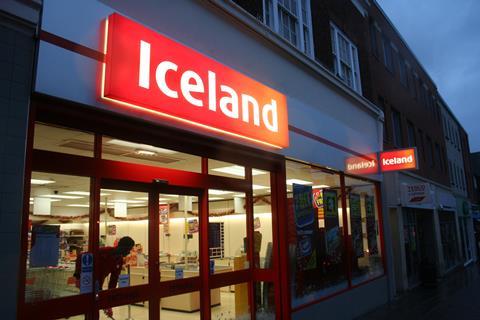 Malcolm Walker steps off his private helicopter in Battersea, following a less than one hour trip south from the garden of his family home in Chester.
The charismatic Iceland founder strolls into the Crowne Plaza Hotel, introducing himself with a firm handshake, a smile and a trademark candid quip: "We could save time if you just got my book - you wouldn't need this interview."
Although Iceland isn't flying quite as high at present as its straight-talking founder and boss, Walker has reason to be cheerful. The grocer's adjusted EBITDA may have plunged 25.7% to £150.2m for the year ending March 27, but Walker is content that he has unearthed a "new direction" to revitalise the frozen food specialist.
And who would argue against him? Walker admits that the past 18 months have been "the most challenging period" he has faced in the 44 years since he founded the retailer – and this is a man who has already rescued it from the brink of extinction during a colourful love-affair with the business.
Turning the business around
Following his acrimonious 2001 departure from the supermarket chain he set up alongside Peter Hinchcliffe three decades earlier, the former Woolworths deputy store manager returned as chief executive in February 2005 as part of a Baugur consortium takeover.
With his brainchild in dire financial straits, the future looked bleak.
"I had a vague hope that I could save the business because it was terminally ill, bankrupt really"

Malcolm Walker, Iceland
"My main motivation was to get my hands on the books to see what had been happening," Walker explains. "I had a vague hope that I could save the business because it was terminally ill, bankrupt really, and possibly make some money.
"The first day I went back, February 11, 2005, I thought what on earth have I done? It was horrible walking back into that building, it was like a morgue, but it only took three or four days to realise it would be an absolute piece of piss to sort the business out because not one single part of it hadn't been screwed up.
It was blindingly obvious what needed to be done."
On that occasion, sailing enthusiast Walker steered Iceland through the choppiest of waters, taking it back to basics to "restore some pride" into the retailer.
Stores and its head offices underwent a deep clean, staff uniforms were refreshed, the range was streamlined and its price points were "sorted out".
Inspiring success
His bite-size business plan at that time, which still adorns the walls of the Iceland boardroom, consisted of just four words on a sheet of paper: 'focus', 'simplicity' and 'accept reality'. They are four words that inspired huge success.
"We've been back now for 10 years and for eight years we've had phenomenal success, with profits increasing every year from zero to £230m EBITDA," Walker boasts.
That initial year-on-year growth led to Iceland suddenly being thrust into a bidding war, as supermarket giants Asda and Morrisons made offers thought to be worth around £1.5bn for its rejuvenated grocery rival.
Eventually, retail legend Lord Kirkham backed Walker in a much-longed-for management buyout in March 2012.
During those golden years, in which Walker confesses its EBITDA margin was "bonkers", the entrepreneur jetted 800 of his store managers to Orlando, Florida for a £5,000-a-head conference and tour at Disney World.

Value of frozen
Ten years on from his return, the man who can now legitimately call himself Dr Walker after receiving an honorary doctorate from his hometown university in Huddersfield for outstanding services to the world of commerce and entrepreneurship, insists the values in his one-page business plan still ring true.
But a contrasting diagnosis of the business has caused him to add a fifth word: urgency.
"The last 18 months has been really tough. We've had the perfect storm of competition from the discounters"

Malcolm Walker, Iceland
"The last 18 months has been really tough," Walker admits. "We've had the perfect storm of competition from the discounters in taking market share and depressing prices.
"Everybody's had to try and price match, but you'll never match them. I'd rather they weren't here, but it's given us all a wake-up call.
"Add to them the 3,000 convenience stores that have opened in the last three years and then add to that the impact of Poundland, B&M Bargains, 99p Stores. It's all eating away, as is the internet, and it's all happened at once. Quite frankly, we haven't known what to do."
That all changed in the months leading up to May 2015, when Iceland launched what Walker calls the "solution", which came in the form of its Power of Frozen TV ad campaign. Now, armed with his doctorate, Walker is in the process of educating Britain. "Those croissants were probably frozen," he says, pointing to the plate of pastries on the table.
Walker is the first to admit that attempts to convince shoppers of the value of frozen food is not a short-term play. He points to Iceland French peer Picard, which has managed to build a strong reputation in its home market, and says that is the benchmark it is striving for.
New marketing approach
Walker is unyielding in his belief that Iceland is making strides to reach that goal, by virtue of the way it is now marketing itself.
"Kerry Katona was dead right for our market and she gave us bang for our buck"

Malcolm Walker, Iceland
"Our TV advertising has for years been celebrity-based," Walker recalls.
"In 2005, we launched with Kerry Katona. A lot of my middle-class friends would say, two years on: 'are you still using Kerry Katona in your adverts?' That was code for: 'what the f**k are you doing using her? Kerry was dead right for our market and whatever anyone says about her, she gave us bang for our buck.
"Then we took on Peter Andre. As we've found our new direction, we are using Peter more as an ambassador. Although he came to Iceland not knowing anything about us and probably being a bit cynical about us, he is now a disciple. Most people like him, who have maybe never been into an Iceland, are just amazed when they do.
"But in Britain there is this in-built prejudice against frozen food. This is a long haul, trying to persuade people about the value of frozen food and therefore Iceland. Our frozen food sales have really turned around, so it's working, but to change perception of a brand will take years.
"We are a privately owned company with supportive shareholders, so we can say 'we are going to take a long-term decision, we are going to accept lower profits, we are going to invest in the product, invest in prices, invest in marketing and it might be a few years before profits start to rise again.'"
Driving expansion
Walker is confident that's exactly what will happen. Iceland's new format, The Food Warehouse, is part of those efforts.
The stores, which Walker describes as a cross between Iceland and Costco, stock the usual Iceland range "plus lots more", with an exotic, upmarket proposition including crocodile burgers, kangaroo meatballs and ostrich steak no less. Six of the shops have already opened, and another half a dozen are in the pipeline.
Walker says "all of our efforts and energy" will go into opening "as many as we can".
Despite turning 69 this year, Walker plans on sticking around to drive that expansion. The proud grandfather-of-eight volleys over another expletive when asked how close he is to hitting 70, before vowing "never to retire"
"With all my friends who have sold their businesses and retired, something very strange happens. Hair grows out your ears, down your nose and you get a big belly," he jokes. "I'll keep going as long as I can."
With that, Walker heads to his next meeting, not before making one final playful pitch for his autobiography, Best Served Cold. If anyone can convince British shoppers of the truth behind that title, Malcolm Walker can.