Since arriving to head the Co-op's food business in 2012, Steve Murrells has lead an impressive recovery, but he is not resting on his laurels.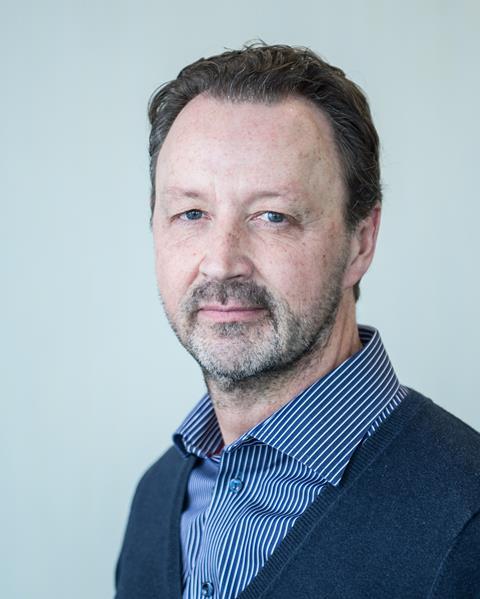 As Steve Murrells pulls up a chair at the Co-operative's sleek headquarters at One Angel Square in Manchester, he cuts a relaxed and content figure – two words that could not have been easily associated with his employer when he first arrived to head its food business in January 2012.
It has been a remarkable three-and-a-half years for the mutual, culminating in the transformation of a £2.3bn loss in 2013 into a £216m net profit for the year ending January 3 this year.
At the heart of that turnaround has been the food business, which led the sales recovery with a 1.5% increase in underlying profits to £251m, driven by a 3.2% jump in like-for-like convenience store sales. For Murrells, that is evidence that the True North strategy, focused on the convenience market, is already reaping rewards.
A dozen floors below where he's being interviewed, chefs are hard at work in the Co-op's kitchens refining its food proposition. Further time has been dedicated to building better relationships with suppliers to improve availability, training staff to improve service and identifying categories that required investment in price. Those ingredients have blended to create an important buzzword for Murrells that he repeats several times during the course of the next hour: momentum.
Pace of change
When the 49-year-old jokes that it has been a "relief" to see that pace of change return to the Co-op, there is a sense he is being only partially tongue-in-cheek. That is because he, perhaps more than anyone, was acutely aware of the almost dire fate facing the food business prior to his arrival.
"Everything that we are doing now, we weren't doing," he says frankly. "But it takes time to turn a super-tanker the size of our food business around with 3,000 shops on the ground.
"There are moments of belief when everybody suddenly goes: 'Oh my God, this is starting to really work.' I do feel like we have got some momentum back. The team we now have running our shops is very, very good. The effort that's going into our store managers, their development, how they run their shops is more than they would have had for many years. That's making a profound difference and it feels great.
"Once you've got 65,000 people all pointing in the same direction, all seeing what we said they would see coming through – that feels good.
"In 2012, if we hadn't changed direction, I think the business would have really struggled. It would have continued to decline, it would have continued to attract fewer and fewer customers and members, it would have failed to face into the importance of a consistent shopping experience and it would have only been a question of time until people chose not to shop at all with us."
Rebuilding the business
Far from becoming complacent that Co-operative Food has been rescued, Murrells is focusing intensely on the 'rebuild phase' of the True North strategy. That includes opening 100 c-stores in 2015, around half of which will be within the M25, and refitting around 270 stores under the so-called Gen2 format.
The new format, which is generating sales uplifts, is designed to appeal to customers shopping for their evening meal and features an increased food-to-go offer. The stores incorporate new branding and signage, an improved bakery offer and ready meals in a bid to provide quick solutions for time-pressed customers.
Staff numbers in those stores will be boosted, with 1,000 new customer-facing employees set to be hired to meet peak-time demand, while existing colleagues will be handed an 8% to 10% pay rise this autumn to reward their efforts during the Co-op's turnaround.
'Leading the way'
Murrells, who formerly held senior positions at Tesco and Sainsbury's, believes that new store model has set the Co-op up well to compete against his former employers in the convenience sector. He proudly claims that he has "seen nothing out there that's as good" as the Gen2 format and that "the Co-op is, for the first time, leading the way".
"Our food today, certainly in fresh, is as good as Sainsbury's and I would say as good as Tesco," he says with a hint of a satisfied smile.
"The quality of our food is exceptionally good, the team have done a great job and the ranges every year are getting better and better. Our pricing is getting better as we continue to invest, so I think we should feel confident about how we compete against them."
Price investment
Murrells says that confidence has been heightened by the fact the Co-op is attracting more customers than it is losing "for the first time in five years". He is determined to continue that trend by "realigning" future investment in price from promotional spend into an everyday low price model. That strategy has already borne fruit – after reducing the prices of cucumber, lettuce and carrots to just 39p, volumes in those categories rose 15%.
But while Murrells admits he had to "work the margin harder" in fresh, he reaffirmed that he had no desire to "race to the bottom" on price to match retailers such as Lidl and Aldi. Having admitted it is only a matter of time before the latter usurps the Co-op's market share, Murrells explains he will focus price investment on "gateway" categories in order to compete.
"I'm never going to lead on price – I'm not big enough for that," he says. "But I absolutely have a commitment to say that shopping in the Co-op has to get cheaper all of the time.
"In certain areas, we will work the margin a little harder if we feel it's a critical category that acts as a gateway into our stores. In fruit and veg, we decided that the prices we have moved to far outweighed the need for a higher margin, because it would attract customers back into our shops.
"We are seeing that play out already with the halo effect it's having on the overall shop."
Keeping grounded
Away from his role as chief executive of retail – he also heads up the Co-op's electricals business – Murrells admits it is nigh on impossible to fully disengage from work, but highlights the importance to any retail boss of having a close-knit family around them.
He lives with his wife and three children – two boys aged 22 and 21 and a three-year-old daughter – at the family home in Prestbury, Cheshire.
"You need a good family around you to do these types of jobs so that's where all the energy goes outside of work," he says.
"Spending time together, getting out and about, doing stuff with them – that's an important anchor for me and has always been. They keep you real, keep you honest and bring you back down to reality very quickly.
"We started doing this amazing frozen food deal where you get 'all this for a fiver'. I regularly take five or six products home and we have a competition where I say: 'How much do you think this would be?' They always get it wrong – they haven't worked out it's always a fiver."
If the encouraging results under Murrells' stewardship are anything to go by though, customers have worked it out, and quickly. If Murrells has his way, the Co-op will be giving its grocery rivals, as well as consumers, plenty more food for thought in the coming years.