Tesco has brought in two new non executive directors to help steady the ship. Retail Week takes a closer look at their careers to discover what they will bring to the beleaguered grocer.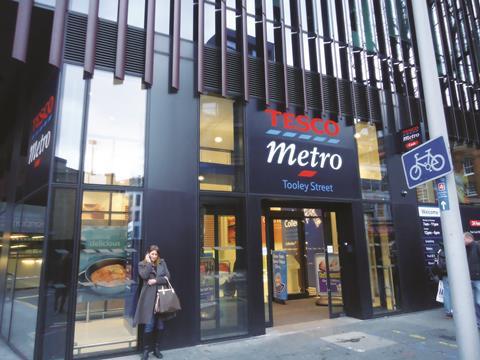 Richard Cousins
Richard Cousins, the boss of the world's largest catering firm Compass Group, should be a perfect fit for one of the world's largest retailers, Tesco. He heads a global company which serves around four billion meals each year in schools, universities, hospitals, offices and even prisons. Despite its specialtism in such food, the company even owns two restaurants in the UK which hold Michelin stars.
Richard Cousins' CV
October 2014 Appointed to Tesco board as non-executive director
2006 to present Chief executive of Compass Group
1990 to 2006 BPB plaster board supplier. Corporate planner rising to become chief executive
1984 to 1990 BTR (now known as Invensys) strategy planner
1981 to 1984 Cadbury Schweppes, operational researcher
Aside from his ability to create product to suit a variety of needs, Cousins has also had to be tough and determined. He was drafted in in 2006 to straighten the company out after Compass had over-expanded into 98 countries and lost its direction, leading to a series of profit warnings, almost reflecting Tesco's own historic problems with overexpansion.
But Cousins managed to built the company up. It broke through the £1bn mark in terms of operating profit for the first time under his watch. That has earned him a reputation a powerful reputation.
Compass had further problems to confront after Cousins joined. Within a few years the business was hit by the economic downturn, leading to European customers cutting contracts to take catering in-house. He was quick to impose a cost reduction programme in 2012. That was concentrated mainly in southern Europe where he streamlined operations and exited non-core businesses, investing cost savings in growing markets such as North America and what Compass calls 'Fast Growing and Emerging Markets'.
Last year the publicly listed firm posted an 8.6% fall in pre-tax profits to £721m for the year to September 30, but sales increased from £16.9bn to £17.6bn and underlying operating profit hit £1.3bn, demonstrating Cousins' strategy is working but there is still more to be done. The company is optimistic of a good full-year performance when it reveals its 2014 results next month.
But some might question whether Cousins has time for such a big role at Tesco. Just last year he had to step down from his non-executive post at Durex owner Reckitt Benckiser to focus on the work at hand at Compass, which he said wouldn't allow him time to give enough attention to Reckitt Benckiser.
Tesco is likely to need all hands on deck as it seeks to resolve problems such as its profit estimate overstatement, and battles to compete in a fiercely contested market. But it will hope the Compass boss can help steer it in the right direction.
Mikael Ohlsson
Mikael Ohlsson will bring invaluable retail experience to the Tesco board from a career at Ikea that started on the shop floor.
Mikael Ohlsson's CV
October 2013 Appointed to the Volvo board
2009-2013 President and chief executive of Ikea
2000-2009 Regional manager at Ikea
1995-2000 Managing director of Ikea Sweden
1991-1995 Chief executive of Ikea Canada
1988-1991 Chief executive of Ikea Belgium
1979-1988 Various positions at Ikea Sweden including carpet sales assistant, marketing manager, training and development manager and store manager
Until Ohlsson's appointment, the Tesco board had no one with retail experience, a situation exacerbated in the monds of some by the fact the grocer's new chief executive Dave Lewis had never worked for a retailer.
Ohlsson knows retail inside out. Much like former Tesco boss Phil Clarke he worked his way up from the bottom to the very pinnacle of the organisation.
He began as a sales assistant in the carpet department at Ikea in 1979 when the company had just 4,000 employees. When he retired as chief executive last year the company had over 130,000 employees.
Tesco is under pressure to address an oppressive company culture that is damaging its business and the down to earth Swede could play an important part in doing that.
Ohlsson is known for favouring sweaters over business suits and his philosophy is that success comes from being honest and creative.
Tesco's integrity has been called into question by the accounting scandal engulfing the retailer, which led to a £250m overstatement of its profits expectation.
The City needs reassurance it can once again trust the grocer and Ohlsson's reputation should go some way to assuaging concerns.
Shore Capital head of research Clive Black has welcomed the appointment and hopes "it represents the recommencement of more effective governance of Tesco".
Ohlsson told one interviewer that "if you don't have a good time doing your job, the result will be crap".
This sentiment will ring true with Tesco employees whose morale has taken a battering of late.
During his time at Ikea Ohlsson instilled a policy of minimising status and prestige and recruiting staff who were engaged, honest and innovative.
It is such values that Tesco's damaged corporate culture is crying out for and if Ohlsson can help instill any them then his appointment will prove astute.