Qualified optician Mike Shearwood finds himself looking at retail through a new lens today, following his shock exit from the fashion specialist.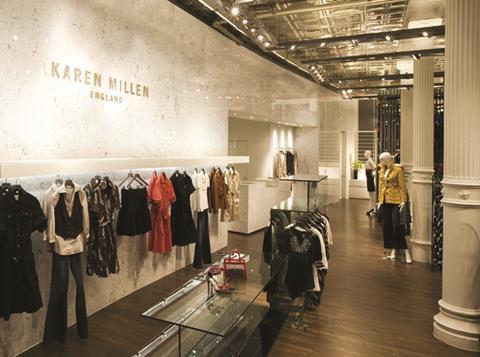 Instead of looking over East London's trendy Shoreditch district from his sixth-floor office, Shearwood, who spent much of his early career at Vision Express, is likely to be gazing into the future and considering what he might like to do next.
Shearwood, who became chief executive of Karen Millen after its spin-off from Aurora, owner of businesses such as Coast and Oasis, is understood to have long harboured ambitions of leading a buy-out of the business.
He had overseen a reinvention of Karen Millen as an "affordable luxury" fashion brand by improving stores and marketing and grabbing the opportunities afforded by new technology.
So when he stood down from the board of Aurora in January this year, many of his peers and industry observers speculated that a buy-out was close.
In the event it was not to be.
It is understood that investors in Karen Millen decided they wanted to hold on to it for the time being.
Given the different aspirations of Shearwood and its backers, it was agreed they would part company – and it was thought best for all concerned that should happen sooner rather than later, prompting today's news.
Steering through tough times
It is understandable that Shearwood should have perhaps become impatient.
He had seen Karen Millen, and before that Aurora and its previous incarnation Mosaic, through tough times and would have been champing at the bit to move to a new phase.
After leading the UK roll-out of Zara, Shearwood joined Mosaic as deputy chief executive.
He was the clearly identified successor to Derek Lovelock, who eventually moved up to become chairman of Aurora.
But all the planning in the world could not prepare the pair for the chill that set in as the financial crisis hit.
The business's Icelandic backer Baugur, which in the preceding years had bought many of the UK's best-known retailers, was a casualty of the crash. That pushed Mosaic into collapse.
But Shearwood and Lovelock stuck things out.
Aurora was born from the ashes of Mosaic and Shearwood went on to run the prestigious Karen Millen business with the intention at an appropriate moment of buying it.
Looking ahead
As he stood down today Shearwood said: "It saddens me to be leaving the brand after so many years. However, I am confident I leave behind an exceptional leadership team who will ensure the repositioning of Karen Millen continues to be a global success."
For the time being he will no doubt be spending more time with his family. That should keep him occupied – he has six children.
But Shearwood could probably find himself a new role without too much trouble.
His determination during the darkest days of the downturn – typical of a keen rugby player - an informal and charismatic leadership style, and a track-record with some of retail's best known names mean he has a wide range and depth of experience.
So he may soon occupy a chief executive's office again even if after this disappointment he may look at things from a different perspective.