Retail Week executive editor George MacDonald reviews Damaged Goods, Oliver Shah's new book on Sir Philip Green and the demise of BHS.
One anecdote in Oliver Shah's excellent book Damaged Goods captures for me the spirit of Sir Philip Green.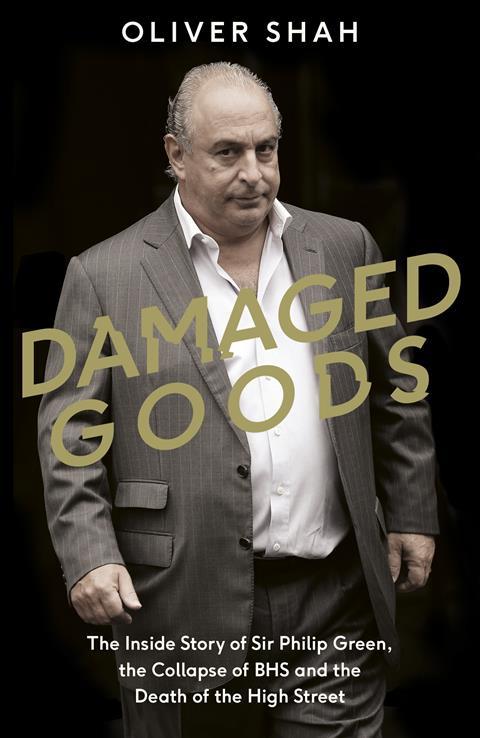 It's from 2004, when the tycoon hoped to buy Marks & Spencer. At a meeting of advisers, Merrill Lynch's European chairman Bob Wigley wondered about the entrepreneur's motivations:
"'You're 52, you're heavily overweight, you've had a heart bypass operation, you smoke like a chimney and you must have an income of about £190m a year. You don't need any stress and you certainly don't need a job.'
"A smile broke across Green's face. 'Bob, I like your thinking,' he replied. 'No one's ever said that to me before. But, with respect, that's why you're chairman of an investment bank and I'm worth two billion quid'."
That epitomises Green at the height of his powers – a restless, driven, hugely ambitious character always in search of a better, bigger deal or something more to prove.
It's how he came across the first time I met him in 2001. It was not long after his first attempt to buy M&S and he was showing off his shiny new branch of BHS in Uxbridge, along with his colleagues Terry Green, the former boss of Debenhams, and Allan Leighton, famous for his role in the legendary turnaround of Asda.
With such a team in place, and as M&S flailed, it didn't seem too far-fetched to believe BHS would become a much stronger force on the high street. They were announcing the launch of a rapid revamp programme and our headline was 'BHS refreshes 50 interiors to become 'Best on High Street'.
It wasn't to be, of course. Green became ultimately associated with the decline and fall of BHS – in particular the treatment of the skint retailer's pensioners – and was characterised as public enemy number one in the process.
Shah's book is a compelling account of Green's career, spanning his family background to the audacious deals and the desperate last days of BHS after its sale in 2015 for £1 to incompetent and rapacious buyers led by Dominic Chappell.
While many now see Green as having simply milked BHS for the benefit of himself and his family, there's little doubt that, at the beginning at least, he hoped to go down in retail's history books as one of the industry's greats.
As a youngster, giants of the past such as Sears magnate Charles Clore and M&S titans Simon Marks and Israel Sieff were Green's inspirations.
Green had many setbacks through his often controversial career, such as his time at listed retailer Amber Day.
He developed a reputation for an intimidating manner and explosive, expletive-littered confrontations, as well as a sharp, engaging sense of humour, private kindness and a 'my word is my bond' approach.
Following the catastrophic end of BHS when it plunged into administration in 2016, and particularly Green's slowness to shoulder responsibility for the pensions, the former characteristics are those most of the public would associate with him.
Insulated from reality
While this retail morality tale quite rightly centres on Green, over the years the business and political establishments were more than happy to work with him. From Goldman Sachs to WestLB, from Tony Blair's government to David Cameron's, Green was hot property. Everybody bought into his success story.
What's most puzzling about the demise of BHS was why Green, an astute reader of people and situations as well as P&L sheets, did not see that the sale of the department store group to Chappell's inexperienced, predatory, rag-tag and bobtail outfit Retail Acquisitions could only end in disaster.
It is impossible to conclude anything other than the tycoon had become insulated from reality, since few cared to argue with him.
Shah writes: "Green was lured by the sirens of celebrity, becoming the kind of cartoon character his grittier younger self would have despised." He became a "projection of the many excesses embraced by the Western world in the years before the financial crisis".
Green took plenty of money out of BHS (he would hardly have wanted to do anything else, would he?). However, perhaps he always hoped to rebuild the business and claim his place alongside his retail heroes.
In the meantime, the world of retail was changing as new fashion powers such as Asos and Boohoo rose. Had Green been as alert to new opportunity or the changing tides as he was to old-fashioned methods such as driving down costs, maybe the BHS saga would have ended differently.
Sadly it didn't. With its cast of colourful characters, pacey, well-told narrative and zeitgeisty feel, Damaged Goods is a great read that captures an era, warts and all.
Damaged Goods: The Inside Story of Sir Philip Green, the Collapse of BHS and the Death of the High Street, is published by Penguin