Job cuts have begun at collapsed retailer HMV's head office as staff took to Twitter to reveal the "mass execution".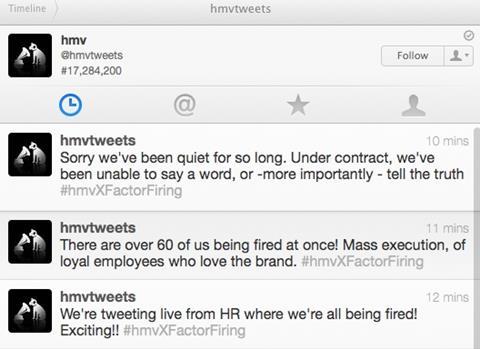 Administrator Deloitte has cut 190 jobs across its head office and distribution network. There have been no redundancies across the retail network with all stores remaining open and continuing to trade.
Retail-Week.com reported yesterday that job losses would begin this week.
Staff took to the retailer's own official Twitter feed to inform social media users of the job losses. One tweet said: "There are over 60 of us being fired at once! Mass execution, of loyal employees who love the brand. #hmvXFactorFiring".
Another added: "Under usual circumstances, we'd never dare do such a thing as this. However, when the company you dearly love is being ruined. And those hard working individuals, who wanted to make HMV great again, have mostly been fired, there seemed no other choice."
Joint administrator Nick Edwards said: "Since our appointment as administrators over two weeks ago, we have been assessing the financial position of HMV. Following this review, a number of redundancies at the head office and distribution centres have been made. Although such decisions are always difficult, it is a necessary step in restructuring the business to enhance the prospects of securing its future as a going concern.
"We have been very pleased with the level of interest in the business as a going concern, whilst the response from customers has demonstrated the demand to see HMV remain on the high street. Equally, the support received from suppliers has been very positive and has enabled us to continue trading during the administration. As a result of all of these factors, I remain hopeful we will be able to secure a future for a restructured business."