Pulling up a chair in Fortnum & Mason's beautifully antiquated fifth floor boardroom in Piccadilly, Ewan Venters wears a proud smile.
"Not a bad place to work, is it?" he asks, throwing his arms wide and admiring his surroundings.
He sits at the head of the boardroom table, as he has on so many occasions since taking charge of the iconic British retailer four-and-a-half years ago, and swigs a glass of water.
It is a rare moment of respite for workaholic Venters as the clock ticks ever closer to Fortnum's busiest and most crucial trading period of the year – Christmas.
"I think London was in for a good season in any event," the father of two explains, "but with what happened to the pound following the Brexit result, I think two things are happening, which are in our favour.
"One is that the international visitors that are here feel a little better off and their average transaction values are up significantly year-on-year.
"And then there is the staycation. There are more people staying on British soil for their holidays and London fits into that schedule, so we've seen some very exciting business with people from all over the UK coming and using the store.
"I talk to a lot of our staff on the floor. My frontline troops are more confident than ever that we're in for a bumper Christmas."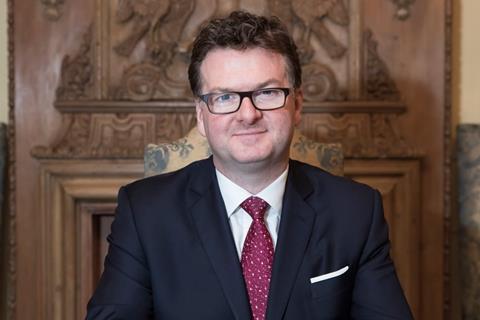 Profits spike
If the narrative from his staff didn't give Venters enough of a festive feeling, Fortnum's latest financial results will have done.
Last week, it posted a 27% spike in net profits to £6.2m for the year ending July 10, as sales climbed 12% to £98.7m – almost double what they were when he took the job in July 2012.
It is easy then to see why the former Sainsbury's management trainee is so chipper about Fortnum's fortunes this Christmas, but will the season bring good tidings for the rest of the retail sector?
The fashion industry in particular has had its troubles, with a perfect storm of increased sourcing costs, higher wage bills and the old chestnut of unpredictable weather dampening sales.
Moving with the times
But Venters, himself a former executive at luxury department store group Selfridges, has little sympathy for businesses that do not adapt to their customers' needs – particularly during such an important trading period.
"It's easy to blame other people, blame market conditions, blame the weather," Venters says. "But if you are good at what you do and can move with changing times, you'll be successful."
"If you are good at what you do and can move with changing times, you'll be successful"

Ewan Venters
Move with the times is certainly something Fortnum & Mason has done under Venters' stewardship.
The Fife-born foodie has grown the business beyond its legendary London home, launching shops at St Pancras International and Heathrow Terminal 5, while also entering new markets across the globe, including its first standalone store outside the UK in Dubai.
But for Venters, the cake is only half-baked.
He is eyeing further concessions in South Korea to complement those already operating within Hong Kong's Lane Crawford and Williams-Sonoma in the US.
He sees room for further expansion into airport terminals following its success at Heathrow.
Creating experiences
And perhaps top of Venters' to-do list is the continued investment into Fortnum's Piccadilly flagship as the self-proclaimed "big entertainer" strives to improve the customer experience.
"We had to become less reliant on Piccadilly to future-proof the business," Venters says, explaining the thinking behind his expansion strategy.
"Our primary role is not to sell product, it's to create experiences. We are in the pleasure business"

Ewan Venters
"Over time, the percentage of our total sales coming from Piccadilly will be lower. Strategically, that was a key thing for us to do.
"But we are always busy [at Piccadilly] and that's down to making the place interesting, realising that today's generation of customers are looking for experience and that product is how you commercialise the experience.
"Our primary role is not to sell product, it's to create experiences. We are in the pleasure business.
"Fortnum's is now firmly beyond retail, but that's why it's survived 310 years. Management teams at different points of its history have found clever ways of continually re-inventing the business to make sure it's meeting the needs of customers."
Famous fans
If you don't take Venters' word for it, just ask one of Fortnum's most famous patrons.
The Scot remembers the moment he met Hollywood star Johnny Depp. The American actor was among a star-studded line-up that attended the Alice Through the Looking Glass after-party at the Piccadilly store earlier this year.
Venters recalls: "Johnny Depp said to me: 'Ewan, I thought my people were crazy when they said we were going to have the after party in a shop. But now I've been here, I get why we're here'."
Retailers could learn plenty from Venters if they want their customers to say the same.