The Oxford Summer School enables retail's future stars to learn from its current leaders – what will this year's course be offering?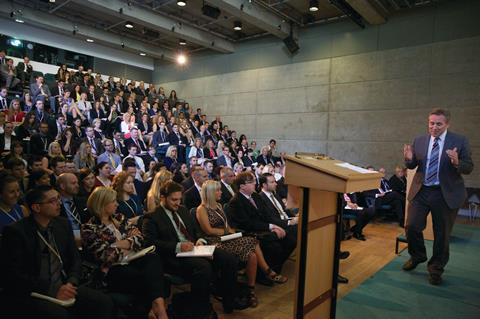 The Oxford Summer School has educated retailers for the past 85 years in the arts of their industry, and this year things are stepping up a gear as international retailing and technology trends make their mark on the sector.
The Summer School is divided into three strands – the foundation, academy and masters programmes – and is aimed at three levels of managers in retail.
The foundation school is developed for young retailers who are managing teams for the first time.
As the school's managing director Dominic Prendergast says: "When I was 22 and a manager for the first time I thought I could go in and just start telling people what to do. This is all about understanding yourself and your strengths, and being able to develop a team that complements your weaknesses. The foundation school is all about understanding yourself better, and this will make you a better manager."
Inspirational advice
One of the speakers at the foundation programme this year will be Terry Washington from Vodafone, who won last year's overall award at the Retail Week Rising Stars awards. Part of the prize is a place at the summer school, and the winner also speaks to delegates about what he or she has learned in their career so far.
"We hear about how they've got to where they've got to, and what they look for in leadership," Prendergast says. "Plus, how they motivate their people and their advice for other delegates. It's very inspiring to hear from them."
The academy school, meanwhile, is aimed at middle management and Prendergast says it helps develop future leaders. "It is aimed at nurturing future leaders within retail, and is all about understanding retail principles – it encompasses people, merchandising, marketing and finance. That culminates after seven days into a business exercise where delegates apply those learnings."
The final school, which is the master's programme, is designed for retailers who are more senior and about to join the board.
Prendergast says: "You may have got into the boardroom based on your functional expertise, and all of a sudden you've got to have a point of view on strategies. People suddenly want a view on IT strategy or where the business should buy raw materials from, and you've got to contribute to those discussions as a director."
He adds that the programme helps people prepare for more senior roles where more is asked of them. "The master's helps people to have a wider perception of the business and of retail."
Speakers this year are just as impressive as last, when outgoing Sainsbury's chief executive Justin King spoke to delegates about his top 10 tips for developing and sustaining a successful management career in retail.
Industry leaders
This year, delegates will hear from speakers such as Kingfisher group chief executive Sir Ian Cheshire, who will discuss the future of retailing, and White Stuff chief executive Jeremy Seigal.
Seigal says: "I am excited to be part of the fantastic Oxford Summer School programme in 2014. Developing great talent is essential in our industry, and I am honoured to be able to speak to so many individuals who will make such an impact in the future."
Ann Summers managing director Vanessa Gold is also speaking, and says it's important to invest time in developing talent. "Supporting our colleagues is important when working in an ever-evolving environment
such as retail," she says.
Prendergast says the programmes this year will include more material on international retailing, which is growing in importance for many UK retailers. Martijn Bertisen, senior industry head, retail, at Google will make an appearance to speak to delegates about evolving technology trends.
Bertisen says: "Digital has been disruptive to the retail industry over the last two decades, but it has also created unbelievable opportunities for retailers. Those that were early adopters have seen much faster growth than those not adopting the web. With the emergence of mobile and the increasingly global nature of ecommerce the fast and agile will continue to win."
Prendergast says the school changes what it teaches each year in response to feedback from students and changing market conditions. "There's always elements we introduce, but the fundamental core remains solid."
No doubt this summer's crop of future retail leaders will agree.
The speakers
At 2013's summer school, Sainsbury's chief executive Justin King (pictured) and Waitrose managing director Mark Price were among the speakers. The grocery bosses, along with BRC director-general Helen Dickinson and Marks & Spencermultichannel ecommerce executive director Laura Wade-Gery, addressed more than 200 retail managers at the event.
Here are some of the retailers and retail experts delegates will hear from this year:
Sir Ian Cheshire, Group chief executive, Kingfisher, and outgoing chairman of the British Retail Consortium, will talk about the future of retailing.
Tom Joule, founder, Joules.
Alan Giles, former chairman, Fat Face and associate fellow of the Saïd Business School.
Jeremy Seigal, chief executive, White Stuff.
Peter Scott, managing director, Carphone Warehouse Ireland.
Vanessa Gold, managing director, Ann Summers.
Wendy Hallett, founder and managing director, Hallett Retail.
Steve Finlan, director of international operations, Marks & Spencer.
Fernando Pina, director of retail, EMEA, Asics.
Graham Wynn, assistant director, British Retail Consortium.
Alan Hawkins, chief executive, British Independent Retailers Association.
Christophe Cauvy, european head of digital and innovation, JWT.
Jonathan Reynolds, academic director, Oxford Institute of Retail Management.
David Jeary, analyst and management consultant.
Tony Lorenz, strategy and development director, Endpoint.
Andrew McClelland, managing director, IMRG.
Olga Nazarkova, international ecommerce director, Mothercare and Early Learning Centre.
Amanda Poole, retail consultant.
Alan Treadgold, global head of retail development, Cheil Worldwide.
Oxford Summer School details
The foundation programme takes place July 28 to August 1 at St Catherine's College, Oxford. The academy takes place August 16 to 22 at Keble College, Oxford. The masters strand took place in March. To find out more about the individual training on offer and to book places, please visit Oxfordsummerschool.co.uk